Olympic Champ Racks Up a $5,000 'Pokemon Go' Bill in Rio
Artistic gymnast Kohei Uchimura couldn't believe his eyes when he saw the bill.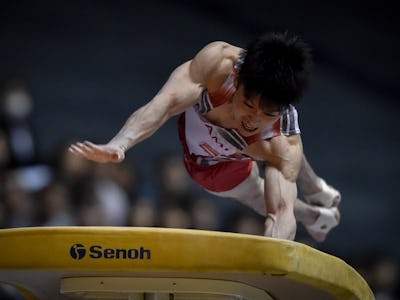 Getty Images / Koki Nagahama
If you're stuck inside – or just plain lazy – it's pretty easy to flip on Pokémon Go, buy a few spots of incense and lucky eggs with Poké Coins, and let the little suckers come to you. But in Brazil, where the Olympics are reportedly chock full of PokéStops, roaming charges and the extra costs can be pretty brutal. Such was the case for World Champion Gymnast Kohei Uchimura, who was hit with a 500,000 yen data-roaming bill (roughly $5,000 USD) after playing non-stop from the moment he landed in Sao Paolo.
"He looked dead at the team meal that day," said teammate Kenzo Shirai. The gobsmacked competitor says he had no idea that roaming charges would apply so heavily – and that he had become addicted to the game.
The six-time world champion ended up calling his provider and getting off with a daily flat rate of $30, which — considering the original price — is a great deal. "I really lucked out," Uchimura told the Japan Times. The game doesn't actually use that much data, but in the face of international roaming charges, it's important to remember that buying a local phone card can save a traveler thousands of dollars.