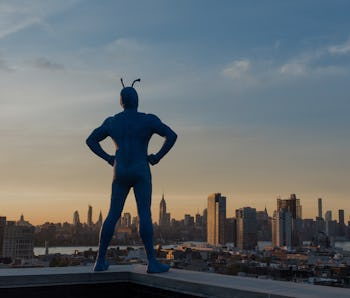 Entertainment
Photos from 'The Tick' Show It's More Than Just a Reboot
Amazon
Amazon is rebooting The Tick, the big, blue superhero comedy that ran for a meager nine episodes on Fox in 2001, but gained a cultish reputation after its cancellation. Newly released photos seem to suggest a little more confidence on the part of the series – as opposed to the awkwardness of the first released shot of The Tick mid-conversation.
In these new photos of Amazon's The Tick, premiering August 19 and starring Peter Serafinowicz (the "A-holes" guy in Guardians of the Galaxy), Griffin Newman (Vinyl), and Jackie Earle Haley (Watchmen, Preacher), The Tick still looks too "updated" and serious whereas Patrick Warburton's Tick was simple and cheap-looking, as it should be. Still, there's a lot more going on. Not enough to reveal anything about the plot, but enough to know Amazon's The Tick won't be a total drag. Maybe.
In it, Serafinowicz and Newman begin a bond between hero and everyman. That's enough to know what kind of dynamic they'll have when Newman inevitably wears the moth costume Arthur sports in The Tick comic, cartoon, and series. The last shot, with Serafinowicz looking heroically at the New York skyline from Brooklyn, is especially cool with Tick's silhouette appearing so sharply.
Amazon's The Tick will premiere Aug. 19.
See also: The Tick: A Brief History of America's Best Worst Superhero