'Harry Potter' Play Coming to Broadway, Probably
Time to apparate stateside, Harry.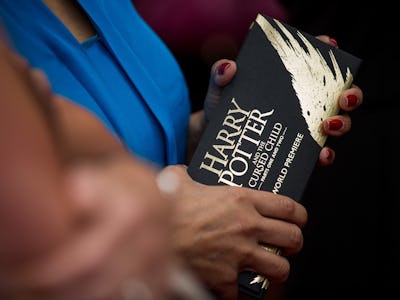 Getty Images / Rob Stothard
American Potterheads, get ready. Harry Potter and the Cursed Child, the West End production and eighth installment in the wizard-themed series, is coming to Broadway. Probably. The producers are planning to "have a cappuccino" and discuss what happens next for the play that continues the saga about the boy who lived.
The play's producers, Colin Callender and Sonia Friedman, told the New York Times in an interview over the weekend that nothing's set in stone just yet, but this week discussions will begin in London. Come the fall, Friedman and Callender hope to begin New York-based talks.
The pair is riding high from the success of the London production, which has received warm reviews since making its debut at the end of July. Variety described it as "a proper theatrical blockbuster," while The Telegraph described it as "a magical show with a strong emotional core."
Since the project was officially revealed in June 2015, there has been some confusion over whether Cursed Child is a new story installment. Although it is the eighth story in the series, it isn't receiving a novel release like its predecessors.
That hasn't stopped fans from waiting for hours outside Barnes & Noble to experience a new Harry Potter adventure. A book of the script, which went on sale Sunday, has smashed records. Amazon statistics show the book is so far 2016's top pre-order for both print and Kindle editions. Bookstores were packed at midnight as eager fans rushed to grab their copy. Potter heads just can't wait to get their hands on the latest adventure.
With the success of the script and initial production, taking the play to other cities is the next logical step. Ignore any half-baked rumors about Harry Potter in your nearby town, though. Callendar described rumors of a Toronto showing as "not based on anything." Nothing's been decided about anything, and the pair stress to not believe any whispers that claim to have the inside scoop.
That isn't to say that talk of a New York production is a totally radical idea, though. "Harry Potter, the brand and the story, are as iconic over there as anywhere in the world, and, Colin and I being theater producers and Broadway producers, of course it's on our radar, but where, how, when and with whom, we have no idea," Friedman told the Times. "Of course, it would be disingenuous to think New York and Broadway weren't part of our thinking."