Marvel Just Made a Major Change to 'Avengers: Infinity War'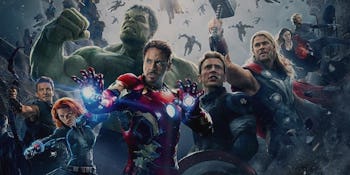 Marvel Studios/Disney
First, Warner Bros. and DC decided against halving Justice League into two films, and now Marvel Studios has elected to do the same with its next Avengers movie. On Friday evening, the Disney-backed comic book movie studio tweaked the titles of its upcoming superhero smorgasbord films, dropping the sequence number from Avengers: Infinity War Part I, and giving its sequel a placeholder title. For now, fans can look forward to Untitled Avengers coming in May 2019, in glorious 3D.
Back in 2014, Marvel Studios honcho Kevin Feige held a special event showcasing Marvel's output of films in Phase Three. This is when we learned about Black Panther, Doctor Strange, and Captain Marvel, among other upcoming titles.
The two-part Infinity War was the biggest announcement that day, since it promised to unite all corners of the Marvel Cinematic Universe. Recently, word began to circulate that the plan was changing, and Friday's announcement confirms that the 2019 Avengers movie will be its own animal.
What that means, exactly, is hard to say; there are any number of storylines that could follow Infinity War, considering the MCU's tendency to hop between comic titles and inspirations. With the MCU's new solo adventures on the way, a new Spider-Man ready and able to join in on the fun, and a second Guardians of the Galaxy movie out in 2017, there are plenty of options for directors Joe and Anthony Russo.