FBI Investigating Russian Involvement in DNC Leaks
The FBI is now on the case.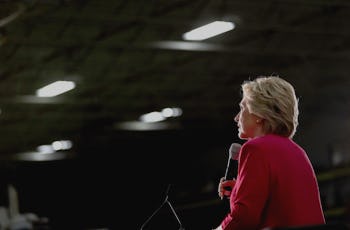 Getty Images / Justin Sullivan
Reports have been circulating regarding Russian intelligence spies hacking into DNC and Clinton campaign servers for over a week now. Today, the Democratic Congressional Campaign Committee — which handles fundraising for House Democrats — also confirmed that its servers had been compromised. With both Hillary Clinton and Donald Trump confirmed as the Democratic and Republican Presidential nominees respectively, pressure and tension have reached a fever pitch with this kind of news — and Trump, later claiming that he was using sarcasm, went as far as asking the accused hackers in Russia to uncover more information about his opponent's campaign.
With all of that madness in mind, the FBI has finally issued a statement saying that they are looking into the matters of hacking, and an anonymous tip from a law enforcement official confirms that the breach did, indeed, happen.
Speaking with the New York Times, the nameless law enforcement official says that computer systems used by the Clinton campaign were hacked by Russia's intelligence services, but that the series of attacks on the DNC and DCCC have not yet been confirmed to be related. Regardless, the FBI is taking the matter seriously, according to a statement issued on Friday.
The FBI says that they're examining reports of "cyberintrusions involving multiple political entities", but are keeping fairly quiet on all other fronts. The initial DNC hack brought forth 20,000 leaked e-mails from DNC officials and the resignation of DNC chair Debbie Wasserman Schultz. "The cyberthreat environment continues to evolve as cyberactors target all sectors and their data," said the FBI. The statement goes on to say that they are in the middle of the investigations, and that they take seriously "any allegations of intrusions, and we will continue to hold accountable those who pose a threat in cyberspace."
This is a developing story.