Sierra Nevada Will Begin a New Round of Testing on the Dream Chaser Spacecraft
The dark horse spaceflight company unveils the latest model of their flagship vehicle.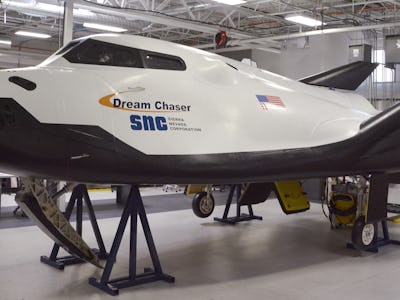 Sierra Nevada
Sierra Nevada Corp. can't claim the cultish adoration that other spaceflight companies like Blue Origin and SpaceX get (and a part of that might have to do with the fact that its leaders don't spend time trading pointless barbs with one another on social media), but it would be a big mistake to write off the Sparks, Nevada-based company, which on Thursday unveiled the latest model of its Dream Chaser spacecraft at its Space Systems facility in Louisville, Colorado.
In 2019, Sierra Nevada will use Dream Chaser to conduct resupply missions to the International Space Staton, as part of its multimillion dollar contract with NASA. This latest model won't actually be the spacecraft that gets blasted off into space, but it's the version that will undergo an extensive series of atmospheric and software testing — which will help guide the company in designing and building the final version of the spacecraft.
The vehicle is already en route to NASA's Armstrong Flight Research Center in California to get started.
Dream Chaser has a striking resemblance to the old space shuttles that dominated NASA's human spaceflight missions from 1981 to 2011 — albeit smaller. It's about 30-feet long and 25-feet wide, with a 12-foot long cargo module that can attach to the back. Altogether, the spacecraft itself and its cargo module can carry about 5,000 kilograms.
What separates Dream Chaser from other commercial vehicles is that it's entirely reusable. The module burns up in space, but the rest of the spacecraft itself makes it back to Earth in one piece, just like a space shuttle could. Dream Chaser, however, can operate autonomously.
Although Dream Chaser will begin as an uncrewed resupply vehicle, the company is adamantly working toward creating technology important to both crewed and uncrewed space exploration.
It's still unclear, however, when Dream Chaser will actually go into space. Sierra Nevada is obligated to fulfill six ISS resupply missions from 2019 to 2024, so it will need to be tested and certified in about three years.