Here's How You Can Order Joker's Car from 'Suicide Squad'
Not actually a "Purple Lamborghini"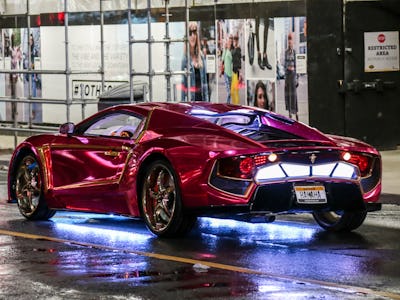 Warner Bros. Pictures, DC Entertainment
If we learned anything in the eight minutes of Suicide Squad Jared Leto's Joker actually appeared in, it's that he lives in gaudy luxury. Gold lit strip clubs, chain necklaces and big rings…oh, and a luxury sports car that you, diehard DCU fan, can actually order right now.
Vaydor Bodykits is the luxury autoshop responsible for Joker's purple sports car seen in the film and trailers. Before you try to guess how much the sports car cost, it's important to note that the Vaydor isn't a purple Lamborghini like the Skrillex/Rick Ross song in the film. It's actually a custom body drivers can install on top of an Infiniti chassis.
The shop operates near Tampa, Florida and they provide custom, fiberglass kits, machine parts, and gears for the Infiniti G35 Coupe. The custom Vaydor kit is what's seen in the actual film and was designed by Matt McEntegart.
Inverse called McEntegart to ask him if the film has boosted sales for his shop's custom fiberglass body. While he says he's not allowed to speak about the actual business conducted between his shop and Warner Bros. Pictures until a few weeks after the film is in theaters, he says demand is at an all-time high.
"We can't make them fast enough," McEntegart tells Inverse, "I wake up to a list of emails each morning." It should be noted that not everyone who calls is looking for the exact shade of purple the Joker outfitted his Vaydor with. In fact, McEntegart isn't even sure if half the people who call about the car are comic book fans. He just knows the exposure from the film has put his custom body in the eyes of car enthusiasts.
So how does a body kit work? Vaydor has a handy build process instruction on their website for burgeoning petrol heads. Basically all you need is the chassis, or the internal frame as it refers to, of a 2003-2007 Infiniti G35 coupe. The "build" does not require any tooling with the chassis like stretching, cutting of the wiring, or modding any of the mechanical components. Apparently, you can even keep the air conditioning on in the car as you work on it.
Although the full process is a little more complicated than screwing in a custom shell on top of a chassis. You'll also have to sacrifice the actual Infiniti body of the G35 if you want to outfit yourself with a car you saw in a movie. And while the actual website instructions seem simple enough for the layman, reading the parts that come with a Vaydor order seems to imply a far more complicated process.
For $11,000 you can order the Fiberglass only kit which includes the main rear body shell, a front clip, the doors, a hood skin, roof wing parts, rear hood skin, a gas filler bucket, and several more exterior components. Another $3,000 will net you a full interior conversion which comes with seats, consoles, dash board, interior panels, and everything else that will make the inside of the Vaydor look in-line with the outside.
So while you can get a cool looking car from a comic book movie for less than $15,000, you won't be getting anything that's readymade. It seems that there are plenty of bodyshops that will help install custom re-body kits for a fee however, if you're really committed to being the Joker for Halloween.