'Suicide Squad': Jared Leto Frustrated with Lack of Joker Scenes
Nobody told Leto that Joker has only really been a supporting character in the 'Suicide Squad' comics.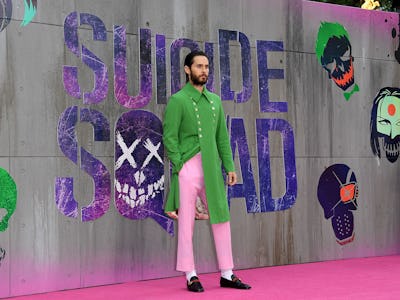 Getty Images / Stuart C. Wilson
This week's release of Suicide Squad was met with mixed reviews and fandom-dividing arguments. Yet the smiling faces of the cast members at events and screenings has kept the press tour going at a fairly positive level. Will Smith opened the Miami premiere with a rendition of his classic tune of the same title (also, who was behind the production of Suicide Squad and decided against the idea of a Will Smith theme song?) and the social media feeds of the cast have been chock full of delightful pictures.
Indeed, this week's press tour directly contrast's Viola Davis's fantastic reactions to actor Jared Leto speaking at Comic-Con, but when closing out a press tour, exhausted actors are known to break the facade and let loose. Leto recently expressed a bit of frustration at what he says were a number of cut scenes involving his depiction of The Joker in Suicide Squad.
During an interview with IGN, Leto was asked about whether or not any scenes got cut from the movie. "Were there any that didn't get cut? I'm asking you, were there any that didn't get cut?" Leto said, seemingly unsure why the Joker played such a small role in the story after so much had been filmed. "There were so many scenes that got cut from the movie, I couldn't even start. I think that the Joker… we did a lot of experimentation on the set, we explored a lot. There's so much that we shot that's not in the film."
Then, things got a little weird.
"If I die anytime soon, it's probably likely that it'll surface somewhere," said Leto. "That's the good news about the death of an actor is all that stuff seems to come out."
Heath Ledger's performance as The Joker in The Dark Knight has a permanent place in DC mythos as being part of what killed the versatile actor in 2008 (Ledger actually died from an accidental overdose on prescription drugs, but rumors still persist on the events leading up to his death). Whether it's intended or not, the crack at an actor's death after carrying the role seemed to be in poor taste — likely another display of Leto's much-lauded commitment to method acting, or something. Perhaps, like Kylo Ren to Darth Vader before him, Leto is simply afraid that his performance might not ever be as powerful as Ledger's. Either way, thank goodness for Mark Hamill.