Here's What the Hyperloop's Virtual Windows Might Look Like
Why look out a real window if you can stare at a virtual one?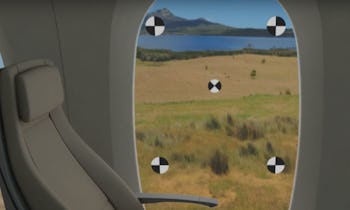 Hyperloop Transportation Technologies
Get ready for some virtual window gazing.
Hyperloop Transportation Technologies has published a concept video showing what virtual windows might look like on its transit system. In the video, an open plain is shown to a passenger whose every movement is tracked so the display can adapt to her perspective. This offers a "realistic" view of the simulated scene.
RE'FLEKT — a company that works on face tracking, mapping projection, and other tools used with virtual or augmented reality systems like Oculus Rift — appears in the video. It seems to be working with Hyperloop Transportation Technologies with the hope of "reinventing your passenger experience."
Here's the video posted by Hyperloop Transportation Technologies chief executive Dirk Ahlborn:
The video appears to be the same as the one Ahlborn presented at SXSW in March. At the time, he said that "it's psychologically really important and great to have the possibility to look out the window," and explained that the windows would show what's happening outside the hyperloop pod so it could "make traveling 'via hyperloop' suck less."
This video comes shortly after Hyperloop One, another company working to make Elon Musk's futuristic transit system a reality, exchanged ridiculous lawsuits with co-founder Brogan BamBrogan over its behavior.
These augmented windows might not be as entertaining as allegations that a startup misused funds to throw wild parties or threatened someone with a noose, but at least they show that Hyperloop Transportation Technologies isn't saddled with the same baggage as its rival.