The Hyperloop Will Feature 'Augmented' and 'Interactive' Windows
Dirk Ahlborn announced at SXSW that the hyperloop will have virtual windows to 'make traveling suck less.'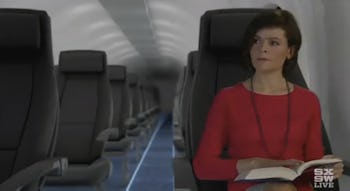 Hyperloop Transportation Technologies 
In 2013, innovator Elon Musk had the great idea to create a hyperloop, but he didn't have time to develop it. So he did something original: he crowdsourced it. The hyperloop is a low-pressure tube in which passenger capsules or pods can travel at more than 700 mph.
Any claustrophobe looks at the tube and asks: "Are there are no windows? How will we breathe?" Well, CEO of Hyperloop Transportation Technologies, Dirk Ahlborn, addressed the issue of "passenger experience" at his "Crowdsourcing the Hyperloop" presentation during South By Southwest Interactive on Sunday in Austin.
Ahlborn announced that though there won't be actual windows; virtual ones are planned for the hyperloop.
The CEO called them "interactive panels" with which you can "look out" at "motion capture technology." This will allow you to see what it actually looks like outside. "Based on your position, we're actually manipulating the image," Ahlborn said. He showed a short video which defined them as "augmented windows," which also seem to show how fast you're going and at which spot you're at in the loop.
"It's psychologically really important and great to have the possibility to look out the window," Ahlborn noted, but also it's about a generally enhanced customer experience.
Currently, 100 engineers with the JumpStartFund are working on a five mile-long hyperloop in a planned town along the I-5 Freeway in California's Central Valley with a completion date of 2018. It costs $6-7 billion to build, which is way cheaper than the current plan for high speed travel in California.
It's like an airplane, but totally powered by green energy and earthquake resistant. The goal is to battle traffic and pollution, and to make travel times shorter, because as Ahlborn said, "I think traveling sucks… Our goal is to make traveling suck less."
A replay of Ahlborn's presentation from Sunday isn't online just yet (we'll post it as soon as it goes up) but here's another keynote he gave at SXSW Eco back in October: