Tesla, Mercedes, and Nikola: The 3-Way Electric Truck Battle
The lines have been drawn.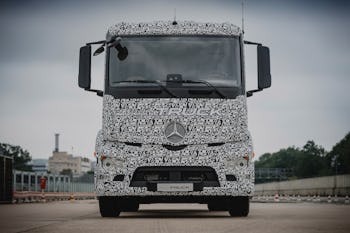 Daimler
The race to own the future of autonomous trucking is in full swing.
The latest entrant is Daimler Automotive Group, the parent company of Mercedes-Benz, which unveiled the Mercedes-Benz Urban eTruck today. It won't go into production until 2020, but when it does make it into Daimler's established production line, it will have a range and load capacity comparable to diesel trucks.
The announcement and concept photos come just a week after Elon Musk laid out his Master Plan, Part Deux, in which he emphasized the need to create a fleet of nearly autonomous electronic semis. Last month, a Tesla-inspired trucking company called Nikola (the so-called Tesla of the trucking industry) got some Model 3 level hype and $2.3 billion in reservations in a single month for an electric hybrid called "Nikola One."
In the United States, 3 million truck drivers push 70 percent of all freight around the country. That number isn't likely to dissipate, as the United Nations predicts that nine billion people will live on Earth by 2050, and 70 percent of them will live in cities. All of those people will need to get their Moringa and cockroach milk from the farms of the future, and the lines for which company will control that transport are already being drawn.
Here are the players:
Daimler/Mercedes-Benz
Daimler has been working on an electric truck concept since 2010. In 2014, the company sent Fuso Canter E-Cell fully electric trucks for customer trials in Portugal.
That's not to mention the hybrid, electric, and autonomous buses and cars the company already makes. So scaling up production won't be an issue.
The Urban eTruck will be able to travel about 124 miles on a single charge, and cost an average of 64 percent less than the average diesel truck in terms of charge cost to fuel cost. While 124 miles just won't do for cross-country trips, it will help bagels get from the baker to the buyer's basket.
"With the Mercedes-Benz Urban eTruck, we are now electrifying the heavy distribution segment up to 26 tonnes," Dr. Wolfgang Bernhard, who is on the board of management for Daimler, says in a press release. "We intend to establish electric driving as systematically as autonomous and connected driving."
Nikola Motor Company
Nikola doesn't have a fully electric truck yet. It doesn't even have a single product on the market yet. But CEO Trevor Milton isn't worried because he is following the playbook of that other, extremely famous company named after Nikola Tesla.
The first step for Nikola is to actually build something. That something will be the Nikola One, or, if you will, the company's version of the Tesla Roadster.
"We believe we will pass the current market leaders like Daimler, PACCAR, Volvo, and Navistar in sales orders within the 12-24 months," Milton says in a press release about earning $2.3 billion in reservations.
Tesla
Heavy duty trucks "are in the early stages of development at Tesla and should be ready for unveiling next year," Musk writes in his second Master Plan. "We believe the Tesla Semi will deliver a substantial reduction in the cost of cargo transport, while increasing safety, and making it really fun to operate."
Admittedly, the time it takes Tesla to go from unveiling, to production, to distribution is always up in the air.
Tesla is the most talked-about electric car companies in the country, though, and people will surely pay attention to whatever they do. It also already knows how to make electric cars, has one of the most advanced autonomous systems on the road, and will soon have a Gigafactory that will produce a ridiculous amount of batteries.
Tesla won't be first, but it will be noticed.