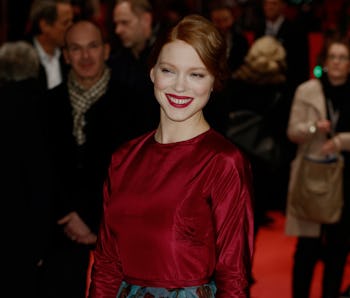 Entertainment
New 'Beauty and The Beast' Trailer Has Certain Je ne Sais Quoi
Forget the Emma Watson Disney movie, there's a Grimm-er film in town. 
For some mysterious reason only your fairy godmother knows, several fairy tale film adaptations always come out the same year. 2012 was the year of Snow White, with Snow White and The Huntsman starring Kristen Stewart and Mirror, Mirror starring Lily Collins; this past year focused on the Frankenstein tale as I Frankenstein starring Aaron Eckhart and Victor Frankenstein starring James McAvoy came out in quick succession. Now, this will be the year of Beauty and the Beast.
You probably already knew about the live-action disney film starring Emma Watson as Belle and Downton Abbey's Dan Stevens as the Beast, but plot twist, there is also a French film starring Blue Is The Warmest Color and The Lobster's Léa Seydoux and the excellently creepy Vincent Cassel (Eastern Promises, Black Swan) as the beast.
Notably, this version looks less Disney-fied and more OG Brothers Grimm, with no singing candelabras to be found. Instead there's ornately eerie setpieces like vine-covered ruins and dire dialogue galore.
Called La Belle et la Bête, the film has already been a hit at the 2014 Berlin International Film Festival and earned César Award nods for cinematography, costume design, and won for production design.
It hits American theaters on September 23.