'Victor Frankenstein' Is Actually Not Bad 
The new movie looks questionable, but it's actually one of the better old-school monster reboots in recent years.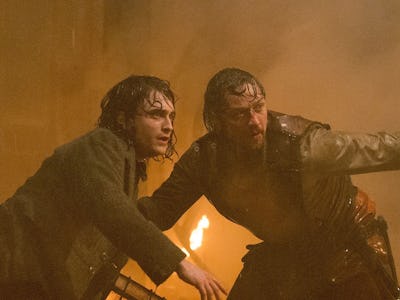 If you've seen the trailers for Victor Frankenstein, the new take on the age-old story that gives the original mad scientist's flunkie Igor the spotlight, you're probably not bursting with enthusiasm to see it.
The trailer is full of terrible period wigs and hectic shots of generic Victorian scenery: coattails, old-timey gentlemen's clubs, crazy-eyes, and forehead vein-filled yelling. Big yawn. It looks like yet another monster movie that's far too lacking in a sense of fun, along the lines of I, Frankenstein, The Last Witch Hunter, or that movie you've already forgotten that tried to make Hansel and Gretel badass.
That's why it's such a pleasant surprise that James McAvoy's madcap performance as the titular character elevates it into an entertaining tale that, for the most part, doesn't take itself too seriously. There's even a nod to the Mel Brooks classic spoof Young Frankenstein.
The trailer isn't entirely misleading; the film still has its flaws — Daniel Radcliffe is too earnest as Igor, and we spend most of his screen time wanting batshit McAvoy to come back and continue throwing scientific sass. But aside from Radcliffe, everyone in it seems to know exactly what kind of movie this is; unlike the 2010 reboot of The Wolfman, where all the actors thought they were in a serious drama.
If we wanted to see a lot of brooding, we'd go see a Ryan Gosling movie (Drive, The Place Beyond The Pines, Only God Forgives: dude loves a good brood). If you make an old-school monster film, you need to recognize why an audience would go see one — pack some fun in with the scares! Sure, a sense of reverence for the material is necessary, but the two concepts don't have to be opposing.
Victor Frankenstein knows how to have fun, unlike The Wolfman. James McAvoy know's what's up, as does Tywin Lannister and Sherlock's nemesis Moriarty. The film is peppered with cameos from Sherlock and Game of Thrones actors like Charles Dance (Tywin Lannister) and Andrew Scott (Moriarty) and it knows that when we see them, we just want to see Tywin Lannister and Moriarty. It doesn't even attempt to write them different parts, because why?
In that regard — knowing why people watch this kind of film — Victor Frankenstein is not unlike Van Helsing. Remember this?
This film didn't exactly win awards, it went on for longer than it should have, and its plot wasn't always the most coherent, but it sure was fun. It's worth revisiting for Kate Beckinsale's vaguely Romanian accent alone.
Like Van Helsing, Victor Frankenstein isn't going to be a critical darling. It probably won't even make much of a wave at the box office, competing against heavyweight franchises in their swan songs like James Bond and The Hunger Games. But if you want to see James McAvoy give a highly entertaining balls-to-the wall take on the iconic mad scientist against a Victorian backdrop while Tywin Lannister and Moriarty sneer from the sidelines — there are far, far worse ways to spend your time at the movies.