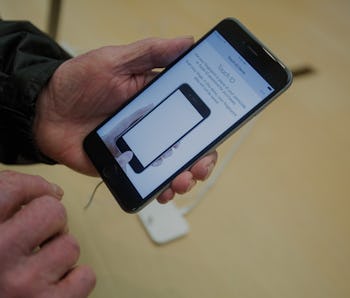 Innovation
The 2018 iPhone May Come With an Iris Scanner
The eye scanner will see you now.
Getty Images / Cole Bennetts
Sick of scanning your finger to unlock your phone? It may soon become a thing of the past. Rumors suggest that Apple and Samsung phones will eventually verify your identity by scanning your eye. Yes, really.
According to sources speaking to DigiTimes in a post published Monday, iris scanning will likely come to the iPhone starting with the 2018 model. Samsung is expected to be first, though, bringing the feature to its lineup in the second half of this year.
A new feature in iOS 10 suggests the rumor may not be too farfetched. Raise to Wake, which works on M7-powered iPhones, will switch on the screen as soon as the phone is lifted out of the pocket. If the phone could automatically scan your iris upon wake as well, it would make the feature even more useful than it is now.
Other smartphones have been released with iris scanning already, though. Microsoft's Lumia 950 XL used Windows Phone's Hello authentication system and a front-facing scanner to check identity. The feature works surprisingly well, even with sunglasses on.
It would be a big next step in Apple's plans for biometric scanning, where a device measures a user's body to grant them access. Touch ID, which measures fingerprints, debuted on the iPhone 5s in 2013. In June, a developer found hints that Apple could bring Touch ID to the Mac.
Little else is known about the 2018 iPhone. Apple is reportedly moving to a cycle where the iPhone form factor changes every three years. Currently, the design changes every other year, but with this shift, the 2016 iPhone is expected to be the third that employs the iPhone 6's design.
If the rumors turn out to be true, the 2017 iPhone will feature a radically different design, with an edge-to-edge display, wireless charging, and fingerprint scanning built directly into the screen. With the new design launching in 2017, the biometric iris scanner may turn out to be one of the biggest changes for the 2018 release.