'The Get Down' Part One Comes to Netflix August 12
Baz Luhrmann and Nas will bring the South Bronx in the 1970s back to life.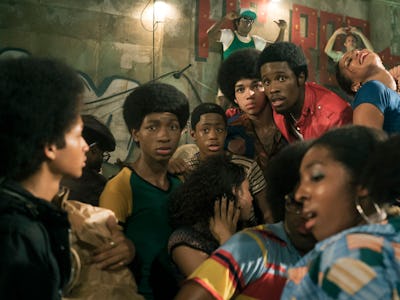 Netflix
If you're looking for something a bit more fast-paced than its eleven "slow TV" offerings in August, Netflix is adding plenty of original content, including Part One of The Get Down, Baz Luhrmann's highly anticipated new show set in the South Bronx in the 1970s.
This musical drama follows a group of teenagers coming of age during the birth of punk, disco, and hip-hop. The first six episodes of the show will hit the streaming service on Friday, August 12, with the rest of the first season to coming sometime in 2017.
"The series is very true to the early hip hop scene — the people that were there are all in this story, as well as people you never meet until now," says executive producer Nas. "It's the first time we all get to see a series about the time hip hop began." Netflix points out that the series uses archival footage and hit influential music of the era.
But how did Luhrmann, a 53-year-old white Australian come to this story half a world away?
"Growing up in an isolated town in Australia, I saw New York from a distance as this amazing creative capital with very sophisticated art forms bursting forth," he says in a release about the series. "Yet, it was also a dangerous, and in some ways, broken place in 1977. My first question was a simple one: how did these profound, creative, new gestures come out of this place, this youth, and this geography? So much creativity, so little means. We see so many depictions of the burned-out Bronx. But who were these 'kids?' This generation of artists? What great adventure, sense of curiosity, and hope did the adults and the newsreels miss? Fundamentally, this show isnt simply about the roots of hip-hop or the demise of disco. The ultimate character is childhood — that authentic impulse to action, the simple happinesses, and the accidental discoveries that made hip-hop possible."
Also coming to Netflix in August, the film adaptation of The Little Prince. The movie, which is available August 5, features stop motion animation and voice work from Jeff Bridges, Rachel McAdams, Paul Rudd, James Franco, and more.
While the full Netflix August movie line-up feels a little weak compared to June or July, Netflix is also adding a few film favorites in August, like Pay it Forward, Blue is the Warmest Color, and No Country for Old Men. Plus, you'll be able to watch The Fast and the Furious and The Fast and the Furious: Tokyo Drift starting August 1. Hopefully that's enough to make you forget that your subscription is now a little pricier.