Netflix's June 2016 New Releases Include Best Picture 'Spotlight' 
Did you miss Best Picture winner 'Spotlight' last year? Netflix has you covered.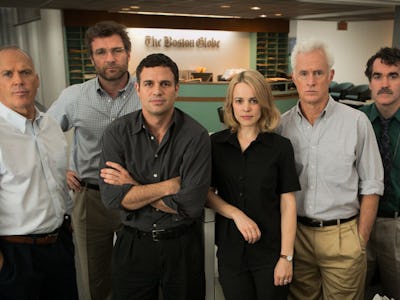 Netflix
Who says Netflix doesn't have a great variety of worthwhile content? It's got perfectly adequate content – and the new batch of movies and TV that will hit the streams in June 2016 proves it.
Surprisingly, Netflix has beefed up its streaming options for the summer months by adding recent Best Picture winner Spotlight, the journalism-championing Catholic priest scandal drama that you can watch as many times as you want on Netflix starting on June 22. It will will also drop another Academy Awards favorite from last year, director Adam McKay's The Big Short, in July, although no date has been released yet.
As for the other June highlights, they get a little less awards-y and a little more popcorn-y. The first three Jurassic Park movies will start streaming on June 1; the Twilight-wannabe adaptation of that book you read in your junior high school english class The Giver will start streaming on Jun 15; the movie that paid for something expensive that Bill Murray bought, Rock the Casbah, also drops on June 1; while Frank Miller's much-maligned comic sequel, Sin City: A Dame to Kill For, starts streaming on June 22. Also, if you want to see Leonardo DiCaprio in old man makeup, Clint Eastwood's quickly forgotten biopic J. Edgar starts streaming on the first of the month.
Here's the rest of the list — which also includes the dates for the fourth season of Orange is the New Black, and Netflix's recent Sundance buy, The Fundamentals of Caring — below:
Streaming On: 6/1/16
7 Chinese Brothers (2015)
72 Cutest Animals: Season 1
72 Dangerous Places: Season 1
A Walk to Remember (2002)
Bob Ross: Beauty is Everywhere (1990)
Breaking the Magician's Code: Magic's Biggest Secrets Finally Revealed: Season 1-2
Conspiracy Theory: Did We Land On The Moon? (2001)
Cuba: The Forgotten Revolution (2015)
(Dis)Honesty: The Truth About Lies (2015)
El Libro de Piedra (1969)
Elizabeth: The Golden Age (2007)
Extraordinary Tales (2015)
Gabo: The Creation of Gabriel García Márquez (2015)
Gentlemen and Gangsters: Season 1
Hadwin's Judgement (2015)
Janis: Little Girl Blue (2015)
The Lost World: Jurassic Park (1997)
Pokémon the Movie: Hoopa and the Clash of Ages (2015)
Pokémon: XY: Kalos Quest: Season 2
Portrait of a Serial Monogamist (2015)
The Resurrection of Jake the Snake (2015)
Sam Klemke's Time Machine (2015)
Tab Hunter Confidential (2015)
UFOs: The Best Evidence Ever (Caught on Tape) (1997)
What Our Fathers Did: A Nazi Legacy (2015)
Streaming on 6/2/16
Beauty & the Beast: Season 3
Hibana: Spark - NETFLIX ORIGINAL
Pretty Little Liars: Season 6
Streaming on 6/3/16
Bo Burnham: Make Happy - NETFLIX ORIGINAL
Streaming on 6/6/16
Streaming on 6/7/16
Every Thing Will Be Fine (2015)
Jarhead 3: The Seige (2016)
Streaming on 6/10/16
LEGO Friends: The Power of Friendship: Season 2 - NETFLIX ORIGINAL
Voltron: Legendary Defender: Season 1 - NETFLIX ORIGINAL
Streaming on 6/11/16
Streaming on 6/12/16
Already Tomorrow in Hong Kong (2015)
Streaming on 6/14/16
Streaming on 6/15/16
In the Shadow of the Moon (2007)
Streaming on 6/16/16
Being Mary Jane: Season 3
Marvel's Agents of S.H.I.E.L.D.: Season 3
Streaming on 6/17/16
All Hail King Julien: Season 3 - NETFLIX ORIGINAL
Orange is the New Black: Season 4 - NETFLIX ORIGINAL
Streaming on 6/18/16
Grey's Anatomy: Season 12
Streaming on 6/19/16
Streaming on 6/20/16
Streaming on 6/21/16
Best Friends Whenever: Season 1
Streaming on 6/22/16
Sin City: A Dame to Kill For (2014)
Streaming on 6/24/16
Dragons: Race to the Edge: Season 3 - NETFLIX ORIGINAL
The Fundamentals of Caring (2016) - NETFLIX ORIGINAL
Justin Time GO! - NETFLIX ORIGINAL
Streaming on 6/27/16
Streaming on 6/29/16
Streaming on 6/30/16
A Very Secret Service: Season 1 - NETFLIX ORIGINAL