Sweet Christmas, Donald Trump Is Giving a Reddit AMA
This is a thing that is happening.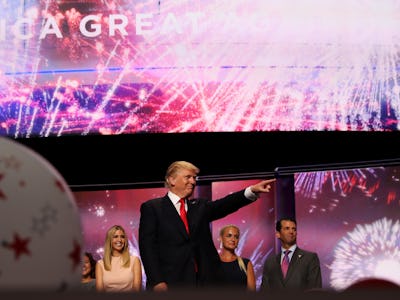 Getty Images
Reddit AMAs have long been the purview of marginal celebrities in whom we are marginally interested. Soon we will have to endure one by a major celebrity in whom everyone is interested, although not really in a positive way.
Actual real-life GOP nominee Donald J. Trump will host his very own AMA at 6:30 p.m. Eastern on Wednesday. Trump himself will begin answering the (presumably very heavily screened? Or maybe not?) questions at 7 p.m. This means, of course, that it will take place during the Democratic National Convention, which will be a nice way for Trump to both crap all over it and keep the internet spotlight firmly shining on his own damn self.
The platform's intrinsic chaos and dumpster fire nature make this a good fit, if you take the time to think about. However, Trump's team does promise that it will be tremendous.
It was announced Monday by the community's moderator Viking83 (who also moderates 12 other subreddits, including "Hillary for Prison," "Trumpire, "The New Right," and "Hunks for Trump"):
First Reddit ignored our sub. Then Reddit laughed at our sub. Then Reddit fought our sub with Hillary's paid haters. And now we are winning with our God Emperor, the Nimble Navigator, Mr. Donald J. Trump!
The whole thing is already taking on such a life of its own that some Redditors have already found time to assign conspiracy theories.
The rapidly growing subreddit, into which you should definitely hold your breath before taking the deep dive, is rife with comments from both sides, but kinda mostly the Trump side. Some fling in mentions of the recently Twitter-evicted Milo Yiannopoulos, or merely send missives of "HILLARY FOR PRISON LOCK HER UP LOCK HER UP LOCK HER UP." Others, as with Reddit user theherps who writes to tell us that he "cannot get any more erect," seem less angry-excited than just excited.
Enjoy.