'Legends of Tomorrow' Season 2 Trailer Teases the JSA
They'll face off against Captain Cold and Reverse-Flash in the Legion of Doom.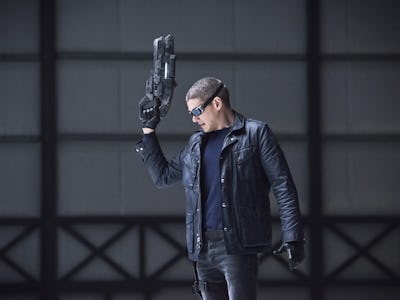 The CW
The end of DC's Legends of Tomorrow teased the existence of the fabled Justice Society of America, predecessors to the Justice League of America. Rex Tyler (Patrick J. Adams) told the titular Legends of the Society's existence, and he came asking for help. And at the show's panel at San Diego Comic-Con on Saturday night, fans of the Arrowverse learned who makes up the JSA — and who they're up against. Needless to say, Season 2 of Legends of Tomorrow is going to be epic.
The show's cast attended the panel (except for Falk Hentschel and Ciara Renee, who played Hawkman and Hawkgirl), along with executive and Phil Klemmer.
The JSA in Legends of Tomorrow
In Legends of Tomorrow, the Justice Society of America is made up of Vixen, Citizen Steel, Obsidian, Stargirl, and Dr. Mid-Nite. It was rumored that Vixen (no longer played by Megalyn Echikunwoke due to work conflicts) would be in Season 2 of Legends of Tomorrow, and at Comic-Con, that rumor turned out to be true.
Of course, Rex Tyler is also a part of the JSA, but who his companions are remained a mystery until now.
The Legion of Doom
DC also revealed the villains for Legends of Tomorrow's upcoming season — and it's a team! The legends and newly-introduced JSA will be up against the Legion of Doom: Eobard Thawne, aka the Reverse-Flash from The Flash, Damien Darhk from Arrow, Captain Cold from The Flash and a former member of the Legends, and Malcolm Merlyn, aka the Dark Archer and the former Ra's Al Ghul in Arrow. Matt Letscher, Neal McDonough, Wentworth Miller, and John Barrowman, respectively, all reprise their roles as the baddies who make up the Legion of Doom.
The Return of Hawkgirl and Hawkman?
Guggenheim said that he's not yet finished telling Hawkgirl and Hawkman's story, but whether or not they'll actually return remains in question. Let's hope that's more than just a tease, it'd be nice to see those two again.
Mayor Oliver Queen, and Jonah Hex!
Stephen Amell will guest star in the first episode of Season 2 as Mayor Oliver Queen, indicating the Green Arrow's efforts turn out fruitful. Jonah Hex (Johnathon Schaech) will also return in the show's sixth episode, after debuting last season when the Waverider crew took a detour to 1870.
DC's Legends of Tomorrow returns to the CW on October 13. Watch the Season two trailer here: