PewDiePie Was a Resource for the New 'South Park' RPG
"Superheroes and video games, there's just a lot to take the piss out of."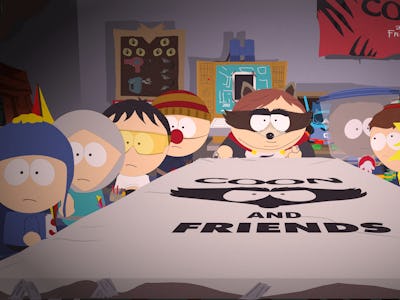 Ubisoft
South Park is taking aim at superheroes and video games in this December's South Park: The Fractured But Whole, a follow-up to 2014's fantasy RPG parody The Stick of Truth. At San Diego Comic-Con Friday, Ubisoft unveiled a new seven-minute mini-documentary detailing South Park creators Matt Stone and Trey Parker shepherding the sequel from concept to development — including a crucial role played by popular YouTube streamer PewDiePie.
Taking place "literally the next day in town" after The Stick of Truth, The Fractured But Whole — available on PlayStation 4 and Xbox One on December 6 — stars your character from Stick of Truth who must build him (or her!) self up again, echoing the "perfect RPG thing" of working one's way back. In the video, Parker says he watched YouTuber streamer PewDiePie play Stick of Truth, which proved an invaluable resource for the development of The Fractured But Whole.
"It was just the best material I could have, because I was like watching an audience member play it and what they were thinking about." Any criticism or praise PewDiePie levied at the game, Parker took intense notes. He continued: "It was just great to have as a resource."
PewDiePie made an appearance on the 14th season episode of South Park, "#REHASH," which spoofed the idiosyncrasies of Let's Play and React videos on YouTube. So it wasn't that far of a stretch for Parker to use PewDiePie as a resource, even if it was in a rather informal capacity. It's only a wonder now if PewDiePie was paid for it.
Ubisoft will release South Park: The Fractured But Whole on December 6 for the PlayStation 4 and Xbox One.