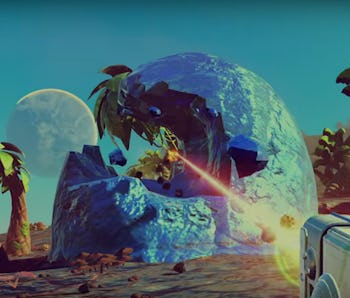 Gaming
New 'No Man's Sky' Trailer Zaps Rocks for Sweet Loot
Look at all those sweet, sweet materials.
As we get closer and closer to the August 9 release of No Man's Sky from developer Hello Games, the company continues to drop tidbits in the form of trailers – to offer up some information on what's been (relatively speaking) carefully concealed until recently.
Unlike the previous two trailers, "Trade" is a fairly calm affair filled with mining materials, trading them in, and running around space in search of more of both.
Specifically, the trailer shows off how gathering materials works in both space and on the ground. The whole process seems simple enough: use the multi tool given to all players to dig into stuff, and the corresponding bits are added to your inventory.
Then, once you have the right amount of bits, those can be traded in for upgraded doodads. What kind of doodads? Well, certainly looks like two are shown in the trailer, with one being a weapon of some kind and the other simply granting new technology. At least that's two more things we know about the game now.
No Man's Sky debuts August 9 on the PlayStation 4.