New 'No Man's Sky' Trailer Shows off Combat 
Shoot your way across the galaxy.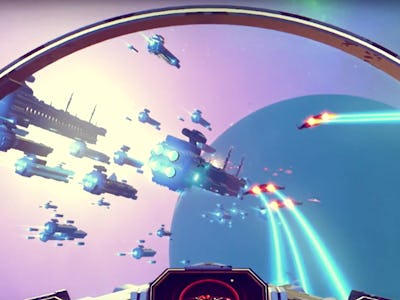 On August 9, Hello Games will release No Man's Sky, a title that boasts one of the largest sandboxes in video game history. 18 quintillion procedurally generated planets will be spread across a universe that's so expansive it'd be impossible to traverse it even in a single lifetime. Which is why Hello Games has devoted the final run up to the game's release to a series of videos about what to do within it — like space laser dogfighting.
The latest video — called "Fight" — gives potential No Man's Sky players a look at the myriad ways they'll be able to blow shit up when the game finally releases.
Hello Games hasn't been shy about players' ability to hit trade convoys and beef up their arsenal in order to build a career as a space pirate. To date, however, most pictures and footage have shown players piloting one of a select assortment of ships and wielding the same low-powered pistol. In "Fight" however, we're finally gifted a few glorious seconds of the game's dogfighting action as well as a glimpse at some new weaponry.
Coupled with last week's "Explore" trailer, we're finally getting a more concrete idea of a game that's been securely under wraps since it was announced.
There are still two more trailers left to go ("Trade" and "Survive") before one of this year's most anticipated games is released to the public, so you can expect a more concrete idea of what to expect when No Mans Sky releases in early August.