Elliot Reboots His System in a Laggy 'Mr. Robot'
Elliot tries to rid himself of Mr. Robot once and for all in "eps2.1k3rnel-pan1c.ksd."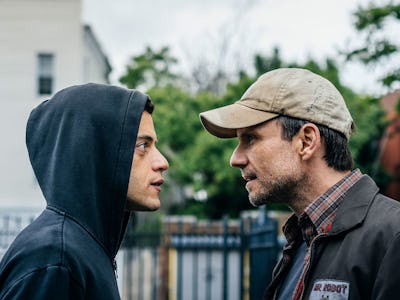 USA Network
Two episodes into its second season and Mr. Robot is showing signs of fatigue. The USA series that was showered with all the praise last year for its atypical presentation and timely themes is hitting many of those same beats again, but in 2016, it's less impressive. For a show that was determined at SXSW to take on an encryption plot, "eps2.1k3rnel-pan1c.ksd" is an hour-and a-half-long slog about Elliot (Rami Malek) OD'ing on Adderall and Angela (Portia Doubleday) maybe getting her Game of Thrones-style revenge in motion.
Mr. Robot began its sophomore year with Elliot detoxing after changing the world with fsociety, living a spartan life. He's exiled himself to a daily routine all in an effort to rid himself of his asshole Jiminy Cricket, Mr. Robot (Christian Slater), but this week Elliot learns the only way to get rid of a bug is to fix it and move on, not reboot the whole damn system. (In non-computer talk, Elliot learns to live and deal with Mr. Robot than shock himself to get rid of him.)
Elliot will now deal with issues one at a time. That's good, because he's already fucked up within the first two episodes. A whole night in Elliot's routine is a giant blank, where he's involved himself with Ray (Craig Robinson) in a way he does not yet understand the extent of. What else did Elliot do?
You can't trust that call with Tyrell (Martin Wallström) in the beginning of this episode. You can't trust anything Elliot sees. The dude hallucinates his own kidnapping this week in a way that builds so much suspense only to shit the bed with little payoff (unless witnessing Elliot eat his own vomited Adderall pills counts). He's the driver for us, the audience, and he's taking us on needless detours through his psyche that grew tiresome since the end of last season.
Grace Gummer (Dominique DiPierro) is going to be an interesting foil for Elliot. She's hot on fsociety's trail, and it's likely she'll cross with Darlene (Carly Chaikin) sooner than Elliot. But she's like him, plagued by insecurities, they'll see themselves in each other in that "We're not so different, you and I" stuff like in James Bond movies. It's just hopeful the show doesn't crash before it can get that far. If it does, her closing words will sum up Mr. Robot's future: "You've gotta be fucking kidding me."