Lil Yachty's 'Summer Songs 2' Will Convert You to the Lil Boat Cult
The ATL "king of teens" makes a case for his longevity and commercial potential with a new Apple Music-released album.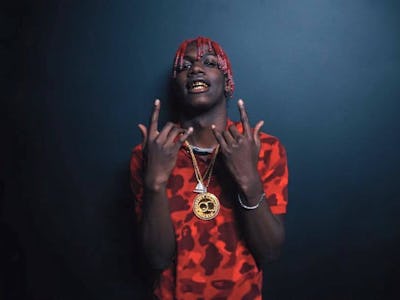 The annual XXL Freshman list, traditionally, is full of aberrations and left-field choices. But this year — at least when it came to street rap — the magazine's lineup of rising rappers gave a fairly complete picture of the landscape, identifying many of trap music's most important young voices, commercially and creatively. They accounted for the post-Gucci/Boosie storytelling and stunting of Kodak Black, the Waka Flocka/Chief Keef-styled utilitarian trap of 21 Savage, the loopy, sugarcoated turn-up jams of Lil Uzi Vert, and finally, the sensitive, elliptical melodies of Lil Yachty.
The 19-year-old Atlanta rapper incorporates the sensitive, tremulous delivery of iLoveMakonnen and the instinctive melodic sensibility of Thugger and Future. His music is imbued with the pseudo-inspirational overtones of Lil B. He's the worst nightmare of any hip-hop traditionalist; his verses are full of half-cogent metaphors, words rhymed with themselves (or not rhymed), and shrill autotune bleats. On his new Apple Music-released tape Summer Songs 2 — his second release of 2016 following his popular March mixtape *Lil Boat* — Yachty revels in his polarizing reputation, crowning himself "king of the youth" and "King of Teens," respectively.
Yachty is best — and certainly most distinctive — when he's indulging his most genteel tendencies. Tracks like "Idk" or the Burberry Perry-featuring "Such Ease" ("We survive through the breeze with such ease") are driven by sunny keyboard chording, against tinny 808s which drop in and out, leaving just ambience in their wake.
He's also certainly capable of harder-edged material that is closer to the median in trap music, motor-mouthing empathetically like he's trying to beat the Migos at their own game. There are harder, less inspiring trap tracks like his collaboration with Chicago post-drill MC G Herbo. The erratic, less straight-faced collaboration with Migos's most underrated asset Offset, "Dipset" — delivered over a grabbing sample of a female opera singer and classical piano flourishes — works better.
Yachty is best when he's committing to being a buttery, unabashed crooner, solemnly delivering lines like "You left my heart like cold turkey" or "Never been a fan of goodbye," even as he refuses to finish any given song without heavy discussion of "nutting" or some synonym. All the contrasts and mystique of hip-hop across its micro-eras are imbued in Summer Songs II, Yachty's most ambitious release to date. It's a typically patchy collection of experiments, but probably makes the best case for Yachty's relevance on the hip-hop landscape: an artist with a strong and sincere, if often zany, voice.
Yachty's career on the charts is just beginning with Lil Boat single "One Night" garnering some rap airplay and viral attention. If he gets a few more Future-grade, melodic singles on his side — or some more Kanye attention — ATL's weirdest new voice could become something approaching a crossover success.