Hackers Are New Top Worry for the Treasury Department
And it's trying to figure out how to prevent them.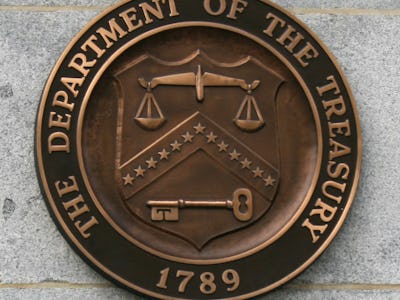 Hackers are now the biggest threat to the financial stability of the United States.
On Tuesday, a Treasury Department committee met to review its efforts to bolster cybersecurity at more than a dozen financial regulatory agencies with the goal of "strengthening information sharing on cyber vulnerabilities, threats and incidents." Of all the threats facing the financial system, the federal government views those of a digital variety the most worrisome.
But it's not just addressing threats, it's also, according to a statement about the meeting, about "furthering the adoption of cybersecurity best practices and enhancing the financial sector's ability to respond to and recover from cyber incidents."
Also at Tuesday's meeting were FBI representatives who offered the latest details about what they should be worried about in the "cyber threat landscape."
The meeting was a followup to the most recent Financial Stability Oversight Council report on threats to the country's financial infrastructure. According to that report, cybersecurity is at the top of the list of the council's worries.
The Council's concerns echo similar worries from other government entities. President Barack Obama said earlier this year that we are "not as well organized as we need to be to make sure were dealing with all these threats" as he prepared to enact his $5 billion National Security Action Plan.
The Defense Department is also worried about cyber threats, and it's even started to pay hackers to make sure the Pentagon is prepared for real cyber attacks.
But the Council's commitment to cybersecurity shows that hackers aren't just a threat to national security — they also have the potential of undermining the many institutions that make sure the country's economy functions. (Or, as anyone burned in the housing crash learned, at least able to help big banks.) That's why these regulatory bodies have to prepare for worst-case scenarios.
It looks like Treasury Department might be following the Pentagon's lead when it comes to preparation: "Committee members were briefed on the results of recent cyber exercises … which evaluated the impact of a cyber incident on financial stability," reads that statement. The groups aren't content to just theorize — they want to see these risks first-hand.
Not that they have to run trials to do so — Reuters reported in June that the U.S. Federal Reserve was hacked more than 50 times between 2011 and 2015 alone.