Blizzard Is Actually Fixing the Worst Parts of 'Overwatch'
Rejoice heroes, Blizzard is keeping up to date with your woes.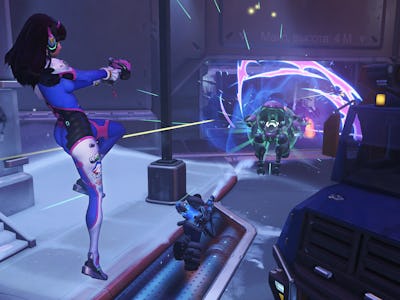 playoverwatch.com
Since the launch of Overwatch and, more recently, the release of competitive mode, players have begun to seriously voice their many complaints. While the team at Blizzard has addressed issues like McCree's fan the hammer and matchmaking being a little unbalanced, many problems remain — including the infamous one-hero limit request in competitive play alongside a reduction in Trobjörn's turret damage. But it looks like they won't remain that way for long, and that Blizzard's committed to resolving things swiftly.
Balancing is something that few video game companies are able to diligently stay on top, though not for lack of trying. The reality of the situation is that it takes time for developers to continuously manage the hundreds, if not thousands, of statistical values that form the foundation for their in-game characters if they hope to keep their vision for the game intact. It's not a simple process, but that hasn't stopped Blizzard from working hard to keep Overwatch fans happy.
The latest patch for the game went live on the public test servers last week, and the good news is that it's filled with gameplay improvements the community has been asking for.
The biggest change currently in play on the PTS is the introduction of a "one hero per team" limit for players in competitive play. This effectively counters hero stacking, which is one of the biggest problems in Overwatch. Every hero in the game is designed to be a direct counter against another hero from the roster, but with so many powerful options at players' disposal, teams will often switch to multiple of one character (like D.Va for example) in order to rush an enemy team and overpower their balanced team composition. Hero stacking is actually so effective that many of the top competitive teams in Overwatch's first season are using doubles of Reinhardt, Soldier 76, and Lucio because it's so difficult for them to be overpowered by a balanced team of six different heroes.
Blizzard's also significantly changing the way D.Va works. As she currently stands, D.Va is one of the least-played heroes in Overwatch thanks to the fact that many of the other tanks outperform her both offensively and defensively due to their managed defensive abilities. Instead of being able to control her Defense Matrix, D.Va is forced to use it for a set amount of time and wait 10 seconds before using it again. This prevents her from being as effective as say, Reinhardt, because players are unable to use her to deflect large amounts of projectiles by managing her Defense Matrix in a way similar to how they would Reinhardt's shield.
In the new patch, D.Va's Defense Matrix has been changed to an active ability which lasts four seconds at full charge and regenerates completely after 10 seconds. Additionally, D.Va's self-destruction ultimate has been reduced in cost, delay, and personal damage, meaning that players will be able to survive their own suit blasts and dish them out more often. It's a welcome change for her offensively that works alongside the Defense Matrix change for the better. Once again, she feels like a threat on the battlefield.
She's not the only one to get tweaks, however. McCree has had his ranged increased to compete with Soldier 76, and Zenyatta is receiving a large shield bonus which adds 50 additional health, a speed boost while using his ultimate, and a projectile speed boost that allows him to hit targets with more precision. The release of Ana Amari, Overwatch's newest hero, is also included in the patch — which just today dropped on PC, and will likely do so later this week for consoles.
Honestly, it's great to see Blizzard working around the clock to keep the problems with Overwatch on their radar. Not only have they continued to listen to player complaints on the daily, but theyve even gone as far as implementing changes based on the platform Overwatch is being played on. Sure, Trobjörn may not be an issue on PC, but on consoles it's a whole different story — and Blizzard is dropping a patch limited to consoles to fix it.
Now that it's clear Blizzard is listening, where's that Trobjörn turret patch? We know you know.