Hillary Clinton's Snapchat Team Is Working Overtime at GOP Convention
Snapchat is new territory this political season.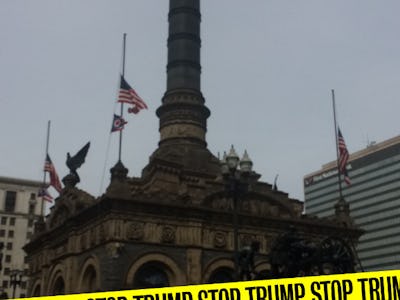 Hillary Clinton's social media team is working hard to earn its money. As protesters descend on Cleveland, Ohio, for the four-day Republican National Convention that begins today, they can use sponsored Snapchat filters to show their opposition of the presumptive Republican presidential nominee Donald Trump.
Snapchat users in downtown Cleveland can access geolocated filters paid for by Hillary For America. One uses a quote from Ohio's Republican Governor and former presidential candidate John Kasich. "Why would I feel compelled to support someone whose positions I kind of fundamentally disagree with?" the filter reads. Using the words of former Republican opponents against Trump has been a recurring theme of the Clinton campaign already, and they're clearly hoping that the Governor's anti-Trump message will strike a chord.
Another filter, also paid for by Hillary for American, overlays rows of police tape with the phrase "STOP TRUMP."
Other thematically appropriate geolocated filters — although without the "Paid for by Hillary for America" disclaimer — include a hand holding a microphone and the headline: "My Hot Take," a "Protest Cam," and one that reads "I'm Voting For: Hillary, Trump, LeBron." Users also have the opportunity to upload their photos to the official RNC Snapchat story page.
Clinton has struggled to connect with young voters, and her team has clearly looked to social media to expand her appeal. She recently garnered positive headlines after her official Twitter handle tweeted "Delete Your Account" at Donald Trump, referencing an oft-used Twitter joke. Other times, her attempts at appealing to youth culture have fallen embarrassingly flat, such as her recent comment that she wants to create an app called Pokemon Go To The Polls.
As of Monday, none of the feared chaos had materialized at the GOP convention. In general, the downtown area is calm. A small crowd had gathered several blocks outside the blocked off security zone for a pro-Trump rally sponsored in part by InfoWars. Alex Jones, the noted conspiracy theorist and Trump supporter, was scheduled to speak. Many of the onlookers sported "Hillary For Prison" shirts. A nearby merch table offered a shirt with a PBR logo changed to read "Donald Fucking Trump."