The Generation of Pablo Escobar Movies Is Just Getting Started
But for many, the story is still very personal.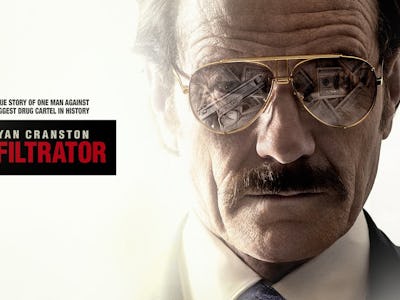 Youtube
Today, it's Bryan Cranston undercover as a Miami money-launderer, bringing down a massive chunk of the Medellin cartel in The Infiltrator. In a few months, Narcos Season 2 hits Netflix. Next year, there will be Tom Cruise in Mena and Javier Bardem in Escobar.
Steve Murphy, an ex-DEA agent and one of the main consultants on Narcos said, "I was just shocked that anyone would even want to watch a show about some two-decade-old case where the villain is dead now." He's perhaps the only person alive who doesn't see the cinematic appeal of the erratic, eccentric, larger-than-life criminal mastermind. Not that Pablo Escobar ever left the public conscious, but the notorious kingpin of the Medellin cartel is certainly having a moment, and it's being driven by a wave of confessions, memoirs, and a new generation of personal connections.
Although Escobar was killed over 20 years ago, the danger is just starting to diminish, opening the door for more personal accounts by survivors. Rober Mazur, whose memoir was the basis of The Infiltrator, still hides his real appearance from the public. Virginia Vallejo was Escobar's mistress and the author of Loving Pablo, Hating Escobar, the book on which Bardem's upcoming film is based. Vallejo sought asylum in the U.S. in 2006 in exchange for her testimony in several cases. As time passes and the last related court cases wrap up, expect to see more personal accounts emerge from all angles of involvement, as Pablo Escobar-adjacent stories remain wildly popular and profitable.
That's not to say that every confessional is for personal gain. Escobar's operation had such a profound impact on Colombia, there is a new generation of the children of the cartel and its victims who are still seeking closure and a way forward. Escobar's son, who now goes by the name Sebastián Marroquín, seems to walk a contradictory line between moving on from his past and acknowledging it in the documentary Sins of My Father, about meeting children of his father's victims, and the memoir Pablo Escobar: My Father. His family still earns money from the rights to Escobar's story, but Marroquín has said that his profits support charities for Escobar's victims in Colombia.
Before Narcos, a Colombian series called Pablo Escobar: El patrón del mal aired in 2012. It remained under the radar of most English speaking audiences, but at the time it was the best and most comprehensive look at the life of Escobar to be found on screen. As you might imagine, the show was quite personal for its Colombian creators, Camilo Cano and Juana Uribe. Cano's father and Uribe's uncle were both assassinated by Escobar's organization in the '80s. Uribe's mother was also kidnapped by the cartel. We can also expect to hear more stories from victims and their families, who have a very different view of Escobar's legacy.
While Colombia has a complicated and conflicted relationship with Escobar, the US has been a little freer to produce glamorous crime dramas like The Infiltrator. They can focus on the accounts of the Americans working with the DEA, the undeniable good guys who still get to act bad because undercover. But stories related to the King of Cocaine are and will continue to be deeply personal narratives.
There is one thing that might put a damper on the Escobar craze. Details are surfacing about a potential lawsuit being brought against Netflix by Roberto Escobar, Pablo's brother. In a letter to Netflix on July 1, Escobar demanded $1 billion for "mistakes, lies, and discrepancies" in Narcos Season 1, and the right to approve further seasons. It's not yet clear what his legal rights are to the Escobar name, but he and his business partners claim to have registered the rights in California, and that they are working on further copyrights.
In a 2014 interview, Roberto expressed similar displeasure with the Colombian TV show, El patrn del mal, saying "It was all a lie, 90 percent, at least." He also claimed to be suing those producers.
Roberto is a fascinating figure in his own right; he was actually famous well before Pablo, as a champion cyclist and a talented engineer. As to what he'd do with his $1 billion from Netflix, he says he's philanthropically minded and has funded a lot of HIV research and prevention. He also owns a $5 million cloned horse, so it may be that eccentricity runs in the family. Maybe Roberto will one day sign off on a biopic of his own life.