'Narcos' Season 2 Date Announced by Netflix
The second season of the streaming service's drug drama will reportedly chronicle the fall of Pablo Escobar.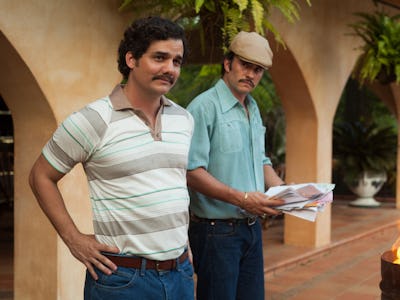 Netflix
Netflix's hugely popular 1980s crime-drama Narcos is set to return to the streaming service for its second season worldwide on September 2.
Actor Wagner Moura reprises his role as Pablo Escobar, the infamous Colombian drug lord, whose Medellin cartel is investigated and brought down by Gone Girl actor Boyd Holbrook and Pedro Pascal (a.k.a. Oberyn Martell from Game of Thrones, R.I.P.) as real-life Drug Enforcement Administration agents Steve Murphy and Javier Peña.
This news is a big deal for TV watchers. Believe it or not, Netflix's gritty drug kingpin crime thriller is reportedly bigger than beloved TV giants like Game of Thrones. It may not have the same cultural clout as GoT, but Narcos represents the streaming giant's ability to cover basically every genre they can – with big ambitious content.
Check out the fairly straightforward Season 2 announcement below.
If you're a fan, you'd best tune in because Season 2 is probably Maura's last. Three dates flash across the screen in the brief teaser: December 1, 1949 (Escobar's birthday); December 2, 1993 (the day Escobar was killed); and September 2, 2016 (the date the new season drops). That heavily hints at recent rumors that the 10-episode season will focus on the downfall of Escobar's cartel, and possibly feature the lead character's death.
Game of Thrones got away with that kind of crazy upheaval in its first season so there's no reason why Narcos couldn't up and show the death of Pablo Escobar and live on after that. The fallout is probably just as fascinating as the rise of Escobar is.
Check out the latest season of the "King of Cocaine" when Season 2 of Narcos hits Netflix on September 2.