How 'Sicario' Fits Into 2015's Cartel Craze
Denis Villeneuve's haunting action film is an uncompromising, detailed portrait of one moment, among so many, in the drug war.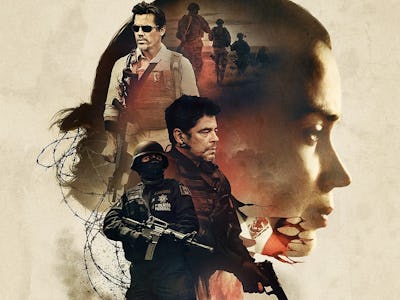 Facebook
Currently, we're experiencing a small wave of drug cartel-centric entertainment: Netflix's popular original series, Narcos; Don Winslow's best-selling crime novel The Cartel; and now director Denis Villeneuve's taut, brutal Sicario. The series, the book, and the film all explore the moral gray (or black) area the United States government inevitably enters into in the course of trying to bring "stability" to designated "war zones," even (in the case of these) cold ones. As in all good crime thrillers and noirs, the line between the bad guys and good ones blurs as the bodies stack higher. Our idealistic, crime-fighting heroes are forced to decide, as DEA agent Javier Peña puts it in Narcos, how "in" are they are willing to go (or, how much will they bend to get what they want). Revenge inevitably becomes a powerful motivator; "business" and "personal" always exist on a continuum.
The overarching journey Bogotá-assigned DEA Steve Murphy (Boyd Holbrook) takes into one of federal law enforcement's most remote corners when the 10-episode Narcos is made in two hours in Sicario. Villeneuve's scope is much narrower than Narco's Goodfellas-styled, sprawling narrative: He zeroes in on one illicit, probably-CIA-helmed operation to take down the head of the Mexican cartel, which takes place in over the course of just a few days. This mission, helmed by callous, rogue CIA agent Matt Graves (Josh Brolin) and undesignated, soft-spoken thug Alejandro (Benicio del Toro) takes FBI agent Kate Macer (Emily Blunt) from her comfort zone as a SWAT team specialist in Arizona to gunning down cartel muscle in traffic at the border to blindly firing AKs in secret underground tunnels.
In the first half of the film — its stronger sections — Villeneuve sticks to Macer's perspective: We are as horrified as she is as Graves' and Alejandro's disreputable tactics reveal themselves. The film moves, literally and figuratively, from light into dark, starting in the burning Arizona sun and descending into the darkness of the cartel's tunnels (the final group battle is seen mostly through night vision and thermal cameras) and ending with Alejandro's solo search for Diaz in the other side of the border in the cover of night.
The ultimate narrative twist of the film is enhanced by its odd structure. We expect Macer to be the hero, and for some element of her inherent sense of justice to prevail; instead, she is rendered ineffectual, trapped, and frightened. In its third act, the film's perspective jarringly shifts to Alejandro — remorseless enough to get the job done — to emphasize this point, and flip our understanding of the title on its head.
But Sicario gains most of its power from the details of its realization, not from its scripting. The contrast between Villenueve's majestic tracking shots and sometimes distant and impersonal camerawork (mixed with Jóhann Jóhannsson's booming leviathan of a score) is gripping. Blunt, Brolin, and del Toro give typically strong, controlled performances, pacing themselves as they follow separate trajectories to the brink of sanity. The film aims for the pit of our stomach, not to provide in-depth, brainy analysis as in Narcos. In fact, Sicario's story is textbook — almost boilerplate. The characters are lightly shaded, the political implications are simplistic, and the final turn nearly expected, patly explained in a third act discussion between Blunt and Brolin.
But this architecture falls away as the film ends, and the sharp images remain. If you have seen any of Villeneuve's other movies — from Lynchian curiosity Enemy to epic murder mystery Prisoners to the grim Lebanon-set drama Incendies — you know that few working directors can build tension to a fever pitch as breathtakingly as he can. No reveal could ever be satisfying given how high his builds the stakes. But that is also fitting, thematically. There are no heroes in his movies. His characters are reduced to their basest selves, or, to use a keyword from Prisoners, become demons; no conclusion to their tangled, tortured stories could be truly gratifying. Ultimately they are simply slaves to some higher mechanism — perhaps just to the entropy of the universe, or something mysteriously abject in human nature. In the end, they, like us, remain in the dark.
This, ultimately, is Sicario's contribution to the composite picture of the drug wars this year's cartel dramas paint: breaking through, as far as anyone can, to that industry's essential, unknowable heart of darkness, which as Brolin clarifies, will keep beating no matter what.