Netflix Tells Its Own Pablo Escobar Story With 'Narcos' 
The first trailer just dropped and it shows promise.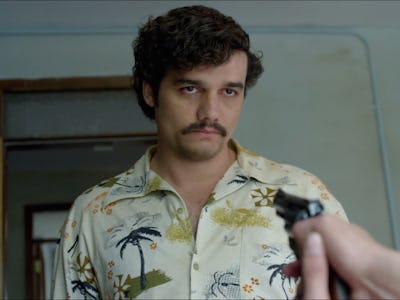 YouTube.com
Great timing by Netflix. One of the most notorious drug lords in the world goes on the lam this week and they decide to drop the trailer to their newest series, Narcos, about notorious Columbian cocaine trafficker Pablo Escobar. Well played Big Red.
Actor Wagner Moura plays Escobar. Boyd Holbrook and Pedro Pascal, who are still sorely missed on Game of Thrones, play the DEA agents tasked with taking him out in the 1980s. Predictably, there are guns, girls, and coke dust splattered all over the trailer. That much is to be expected.
But, if Escobar's own tale of drug-fueled hubris has been told over and over again in various mediums, the other sides of that sad tale have not. Still, while the trailer looks like more of the same, there is a slight hint in the footage that director José Padilha — who's coming off the woeful Robocop reboot misfire — is taking his cues from Scorsese, DePalma, and other masters of the crime genre. But it could just as easily fall flat and be a Scorsese ripoff like Blow. It is, in short, a high-stakes gamble, which is a very cool kind of gamble to make.
The series will premiere in full on Netflix on August 28.