After Sex Scandal, Tor Project Dances Around Reason for Shakeup
Allegations of sexual assault by a former board member apparently didn't influence the change.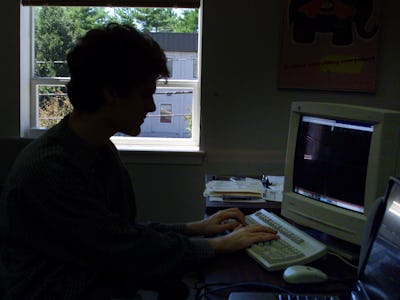 Getty Images / Mark Wilson
The Tor Project has a new board of directors, but don't bother asking why.
The group leads development on the Tor privacy tool that allows people to anonymously browse the web and use secure communications tools. On July 13, its board announced that it had decided to elect an entirely new board composed of well-known security experts, privacy advocates, and scholars.
Speculation about the unexpected change pointed to one possible reason for such an abrupt shakeup: Claims that the previous board knew about allegations of sexual assault, harassment, and general misconduct by Jacob Appelbaum, who sat on the board of directors until May 25.
People have started to come forward with stories about Appelbaum's behavior including allegations of unwanted sexual advances against several women within the privacy community.
It would make sense for the Tor Project to change up its board of directors following those reports. But when Inverse reached out to ask about the shift, executive director Shari Steele offered the following answer: "The board recognized that the Tor Project could use more solid leadership experience and chose to replace itself with a board that had more of that experience."
That's a weird non-answer to a question about a change that many people, from Freedom of the Press Foundation executive director Trevor Timm to well-known security expert and researcher Morgan Marquis-Boire, have praised.
"The Tor Project brought Shari Steele on as the new executive director and you can tell she is really digging into the organization and trying to reshape it into something that will be able to grow and meet the needs that she sees need to be met in the future," says Access Now U.S. policy manager Amie Stepanovich. "And I think that, for a board of directors, the individuals she has chosen really are the cream of the crop in their field and will be able to help her achieve her direction."
All told, the Tor Project seems to have done the right thing in replacing its board, especially if the previous board knew about the allegations against Appelbaum but decided not to do anything until they were made public.
Not that Steele is talking about what those changes might be: "Board members of a nonprofit organization are responsible for hiring, firing and overseeing the executive director and for providing fiscal oversight of the organization," she said.
Perhaps anyone following that advice will also get a glimpse at the events which preceded such a big change to the group of people in charge of a project that helps more than a million people safely access Facebook or to catch up on the news without fear of having their activity monitored. The service isn't perfect, but it does affect citizens, journalists, and activists in profound ways.