This 'New York Post' 'Star Wars' Cover is Pretty, Pretty Good
Politics aside, there's so much going on here. Let's dive in.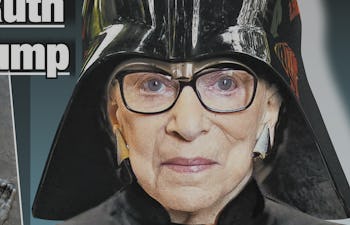 The New York Post is a loud, often ugly, occasionally entertaining, Right-leaning New York City tabloid with a history of memorable front page headlines. Whether today's will be remembered among its best is still up for debate, but Star Wars fans won't forget it for a long time.
The story vilifies 83-year-old Supreme Court Justice Ruth Bader Ginsburg as Darth Vader and Donald Trump as Han Solo, frozen in carbonite.
"Violating the impartiality of the judiciary, Supreme Court Justice Ruth Bader Ginsburg has started a war of words with Donald Trump, calling him a 'faker,'" reads the caption on the page's lower-right hand corner, teasing a two-page spread that unfortunately doesn't continue the Star Wars theme.
Ginsburg (hipster mascot and source of Kate McKinnon's SNL impression), said in an interview with the New York Times last week about a Trump presidency:
I cant imagine what this place would be — I can't imagine what the country would be — with Donald Trump as our president. For the country, it could be four years. For the court, it could be — I don't even want to contemplate that.
She has since retracted those comments, releasing a statement: "On reflection, my recent remarks in response to press inquiries were ill-advised and I regret making them. Judges should avoid commenting on a candidate for public office. In the future I will be more circumspect." And for what it's worth, the Times opinion page came out in support of Trump — who tweeted, "If I win the Presidency, we will swamp Justice Ginsburg with real judges and real legal opinions!" You can imagine he meant "swap" instead of "swamp" (but maybe he meant swamp?). The Times editorial calls for her to "drop the political punditry and the name-calling," which seems to be what she promised to do today.
But anyway, back to the important stuff, thank god. Where does this Ginsburg-Vader helmet mash-up rank among the greats of Darth Vader satirical impressions? First, here's the full front page of today's Post:
And here's Rick Moranis in Spaceballs in 1987:
Who can forget adorable Stewie Griffin in Family Guy: Blue Harvest, Part 2 (2007)?
And finally, Adam Driver in Star Wars: The Force Awakens. (You may also be interested in reading this.)