'Mr. Robot' QR Code in Season 2 Premiere Leads to '90s Website
The Season 2 premiere went analog, but not before using a QR code to unveil some new digital mysteries.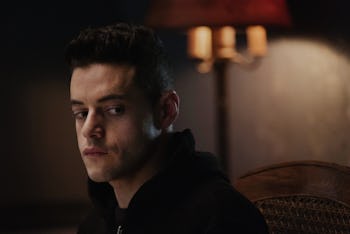 USA
The second season of breakout hacker hit Mr. Robot premiered in two parts on USA last night, and it largely dealt with the fallout from the hacker collective society's encryption of dastardly conglomerate E. Corp's data that was supposed to trigger a big e-revolution. We were fans of what the first look at Season 2 had to offer, but if we've learned anything from the show's protagonist and computer criminal mastermind Elliot (Rami Malek) it's that you have to look a little deeper. Case in point: Elliot largely went analog and took to scribbling a mysterious QR code into a composition notebook that actually led to a seemingly 20-year-old GeoCities-looking website.
Weirdly enough if you scan the code it leads to something called ConficturaIndustries.com, the name of the company that manufactured Elliot's notebook. Is this a rival to E Corp?
The site itself says its still under construction, but mentions that it's been optimized for the new-in-'96 Netscape version 3.0 and has a visitor counter that's currently pushing 6,000 views. We also sent a message to the linked email address to webmaster@ConficturaIndustries.com, but we haven't heard anything back just yet.
Here's a look at the QR code and the site page in a tweet from Fusion's Dodai Stewart:
And here's a cleaned up version created by redditor calculatesrandomshit:
According to Reddit chatter, this could be the first website Elliot created, and more details will most likely reveal themselves over the coming episodes of the show. This unsolved mystery reminds us of similar alternate reality games that promote movies and TV shows, the best still being "The Beast," the digital murder mystery ARG used to promote Steven Spielberg's 2001 film A.I. Artificial Intelligence.
The Mr. Robot-related site features all the hallmarks of 1990s websites including:
That weird star-scape background
A "Cool Page of the Day" label
We're surprised it doesn't have the dancing baby GIF or flying toaster screensaver. If you want a good point of reference, look no further than the still-functioning website for the 1996 animated classic Space Jam.
Keep looking for clues and fall deeper down the rabbit hole. Season 2 of Mr. Robot airs on USA every Wednesday.