Happy Birthday, Harrison Ford!
The man who was Han Solo and is Indiana Jones turns 74 today.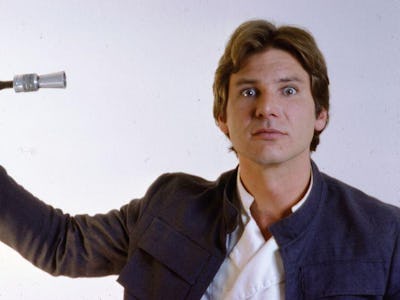 Happy birthday you stuck-up, half-witted, scruffy-looking nerf herder! Today marks actor Harrison Ford's 74th birthday. For a hefty chunk of that time, he's been one of the most recognizable movie stars in the world. Whether he's the epic space opera rogue Han Solo, globe trotting archeologist Indiana Jones, or a totally badass American president kicking terrorists off Air Force One, Ford doesn't appear to be stopping anytime soon.
He'll reportedly don the fedora and crack the bullwhip once again in Steven Spielberg's upcoming fifth Indiana Jones movie and even a new Blade Runner sequel, making him the only septuagenarian action star we can think of that could actually pull it off.
Here's how old he was in his most recognizable roles:
The Empire Strikes Back: 38
Raiders of the Lost Ark: 39
Indiana Jones and the Last Crusade: 47
Indiana Jones and the Kingdom of the Crystal Skull: 66
He's also been getting social media shout-outs across the board from people within the film industry, fans, and, weirdly enough, brands wishing the man who plays Indy a happy b-day.
Ford isn't the only big name in films and TV with a birthday today. Patrick Stewart, a.k.a. Jean-Luc Picard, is two years older than Ford. He's a different kind of leading man, but at least both of them are still taking solid roles well into their careers.
Stewart even got a b-day shout-out from NASA. Ford hasn't gotten that … yet. Here's to many more years of iconic roles from both of them.