A Short History of the Police's Weird Relationship With 'Pokemon GO'
It's a love/hate kind of thing.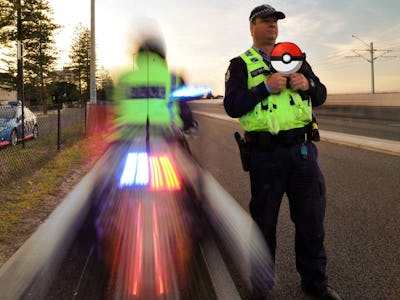 Since the release of Pokémon GO last week, police officers across the world have been dealing with overzealous trespassers, Pokémon-related armed robberies, and Pokéballs located in their own stations. The new augmented reality game has sent players to visit Gyms and PokeStops in churches and mosques, connected complete strangers with a penchant for Pokémon, and led to some unsightly injuries. Hopefully the fact that eggs can't be hatched while traveling over 20 mph will be enough to prevent car accidents.
With the number of unique issues the game has caused in just the few days since its release, it's no surprise that police departments are paying particular attention to the effects of Pokémon GO. From Tuscon to Western Australia to Saskatchewan, police officers are taking to social media both to warn players of the Pokédanger and to try to join in on the fun themselves.
Some have taken the experience in stride, potentially neglecting their cop duties to take hover-hand selfies with Pikachu:
Others have decided that their department wants to be the very best, like no (police department) ever was, and "catch 'em all:"
Others, like the San Francisco Police Department, took the sensible route and reminded users that they are "still in the real world" and have to take certain precautions when playing:
Officers in Tucson inspired their city's trainers with some theme music:
Though they're not technically police (except of the entire world, according to some), the U.S. Marines joined in too:
Officers in Regina, Saskatchewan also tweeted a cogent reminder: #DontCatchAndDrive:
For some players, the game provided a stark contrast between the augmented reality fun and the very real issues between protesters and police this week:
But mostly, for the love of Charmander, cops want you to stay out of their police stations while filling your Pokédexes:
To be fair, they're probably just trying to save all the Pokémon inside for themselves.