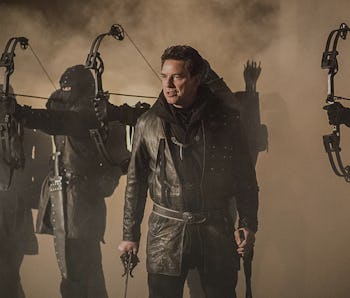 Entertainment
Malcolm Merlyn Joins 'The Flash' and 'Legends of Tomorrow'
The 'Arrow' regular expands his horizons to other corners of the DC TV Universe next fall.
Once the possessor of the title Ra's al Ghul, and before that the Dark Archer, Malcolm Merlyn has had a long history in DC and the CW's Arrow. Now, thanks to a new contract, actor John Barrowman will have a presence in other DC TV shows including The Flash and Legends of Tomorrow.
TVLine reports that Barrowman's contract has been upgraded in a manner akin to Wentworth Miller, who plays the super criminal Captain Cold in The Flash and Legends of Tomorrow. Miller recently completed an unprecedented contract that allows him to appear in any and all DC shows without being a regular to a single series. TVLine says Barrowman's contract is similar, with Barrowman making appearances in his regular Arrow as well as the other DC shows, although TVLine did not mention if it includes Supergirl.
Barrowman began his run in Season 1 of Arrow as the Dark Archer, the primary adversary of Stephen Amell's Oliver Queen who becomes the vigilante Arrow (later Green Arrow). After a few sporadic appearances in Season 2, Barrowman returned as a full series regular in Season 3 and in Season 4 inherited the title Ra's Al Ghul, leader of the fabled League of Assassins. But the League was disbanded by the previous inheritor's daughter, Nyssa, and he is now once again Malcolm Merlyn. Oh, and he has one hand, but that hasn't stopped him from being any less conniving.
Arrow returns for its fifth season on October 5.