'Arrow' Resolves Its Daddy Issues and Disbands the League of Assassins
Oliver Queen once again makes an enemy out of Malcolm Merlyn, and it's his son who will pay for it.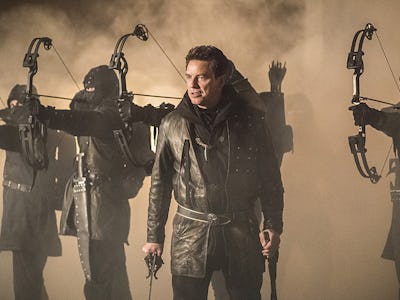 The CW
The League of Assassins are no more.
The 13th episode of Arrow Season 4, "Sins of the Father," leans heavily into themes like legacy and fatherhood, and ends with a seismic shift in the Arrowverse's status quo: the disassembly of Ra's Al Ghul's army of mystical killers. Without a shadowy organization to pull the strings behind world events, does that leave room for another to take its place?
Everyone in this episode is haunted by what fathers — or in Malcolm Merlyn's case, what he's done as a father — have left behind. Never forget that it was Robert Queen who led Oliver on to his journey as Green Arrow. If you did happen to forget, "Sins of the Father" takes great care to remind you. It's been a heck of a long time since Oliver was crossing off names in his daddy's notebook, after all.
"Sins of the Father" sees Oliver and Malcolm race against time to cure Thea's blood lust before it kills her. There is an elixir and it's held by Nyssa, the original Ra's Al Ghul's daughter, who uses it as leverage for Malcolm to give up his position as the Head of the Demon. The minor plot is a continuation of last week's reveal of the Calculator's paternal relation to Felicity, who remarkably takes him on her own. Altogether, Arrow advocates optimistically that no one is beholden to the mistakes or shortcomings of fathers, a popular moral lesson no matter how saccharine. Heaven knows some of us could still learn from it.
Arrow has long walked a careful line for Malcolm Merlyn, who regularly benefits from John Barrowman's ever-engaging intensity. But "Sins of the Father" may have permanently tipped him over now that Merlyn is relinquished and Nyssa, also haunted by her father, dismantles his legacy in her termination of the League.
Until this week, we were never quite sure if he loves Thea, as he claims, or if he loves his power as Ra's Al Ghul more. Though introduced unambiguously as a villain, Merlyn had recently come so close to being an ally until "Sins of the Father" cemented him as Oliver's nemesis forever. There is now a power vacuum and none other than Damien Darhk is in a position to overtake it, and he'll have help from Malcolm who once again has his sights on Oliver … and Oliver's toddler son, William, living in Central City.
Try as we might to break free from our fathers' sins, maybe Arrow is telling us we actually can't.