The 5 Best Stand-Up Comedians to Voice Animated Characters
'The Secret Life of Pets' is filled with stand-up voice talent, but who are the other best stand-ups that got animated?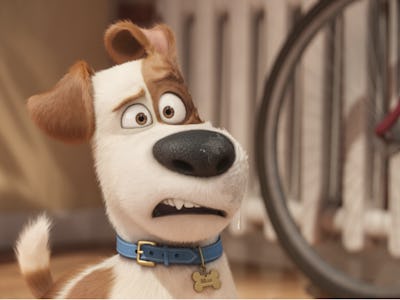 Disney
An animated character, no matter how real or adorable looking, is nothing without a recognizable voice.
This weekend's smash hit The Secret Life of Pets followed in the long tradition of animated films that star comedians to lend their voices to characters. Louis CK, Kevin Hart, Hannibal Buress, Bobby Moynihan, Dana Carvey, and more all lend their vocal talents to the movie, which is more or less a Toy Story about house pets.
Hiring a comedian for an animated film seems like a no-brainer: They're obviously funny, and they can often pull in new fans for the movie who wouldn't ordinarily watch animated kids movies. Though sometimes it doesn't work out — remember Jerry Seinfeld in Bee Movie or Martin Lawrence in Open Season? — studios have a large range of choices. The key for a voice performer is to be distinct but flexible enough to fit into the animated movie mold without giving up what made them a recognizable voice talent in the first place.
Here are the five best comedians who loaned out their voices to animated films.
5. Eddie Murphy in Shrek
Murphy has had what has to be the most up-and-down career out of any major comedian. Gigantic in the 1980s thanks to his time on SNL and classic stand-up specials such as Raw and Delirious and big screen hits like Coming to America and Beverly Hills Cop, he went broad in the '90s. Movies like The Nutty Professor, Dr. Doolittle, and even Bowfinger expanded the notion of what Murphy could do with his talent, for better or worse.
His career hit a rough spot in the early 2000s, but he was rescued by animation. As the jocular sidekick Donkey in the first Shrek movie, he overpowered fellow SNL alum Mike Myers as the titular character. Though he already lent his vocal talents to 1998's Disney animated film Mulan, playing a version of the same character, Murphy's first outing as Donkey brought out the best in him. Charismatic but humble, boisterous but caring, Donkey works because the character can't be merely pinned down to one description. He's got the acidic temper of Murphy's stand-up, but also the compassion of his later family-oriented films. Donkey's extremes are Murphy's own.
4. Ellen DeGeneres in Finding Nemo
DeGeneres is generally thought of as everybody's favorite fun-loving daytime talk host, but a serious stand-up career in the 1980s led to an influential stint on her own network television show, Ellen, in the mid-'90s.
DeGeneres brought her charm to the box office record-breaking 2003 Pixar classic Finding Nemo and, earlier this summer, its sequel, Finding Dory. As the forgetful fish Dory that helped the devoted clownfish Marlin (Albert Brooks) find his son, DeGeneres turned what could have been a grating sidekick annoyance into the humorous heart and soul of the film. It's also what made her become the focus of the belated sequel 13 years later.
3. Patton Oswalt in Ratatouille
Twitter personality and all-around funniest guy alive Patton Oswalt managed to make a rat into a lovable character as Remy in 2007's culinary caper Ratatouille. A Pixar movie seemed to be out of Oswalt's wheelhouse at the time. Catering more towards the hyper-literate pop culture junkie alt-comedy college crowd with stand-up album gems like Werewolves and Lollipops, it somehow seemed natural when he transitioned into a more Disney-friendly personality in director Brad Bird's Oscar-winner. Oswalt has continued to jump in between network TV and niche comedy circles while also taking advantage of social media, but his voice is perhaps best known because of Ratatouille.
2. Tim Allen in Toy Story
It's probably difficult for comedians whose entire career is built on a particular schtick to try and reinvent themselves, even as the voice in a then-groundbreaking computer animated film. Tim Allen had a moderately successful stand-up career before breaking out as Tim "The Toolman" Taylor in the ABC sitcom Home Improvement. Then, he played the disillusioned toy spaceman who had to overcome a serious identity crisis to escape an evil kid and get back to his rightful owner.
The character of Buzz Lightyear in 1995's Toy Story and its sequels might not seem like much more than an upstanding boy-scout type, but Allen truly broke through his acting limitations by bringing true melancholy to what could have been a one-note animated character. Part of this falls on the absolute geniuses at Pixar flexing their storytelling prowess, but Allen's performance when Buzz finds out he isn't a real space ranger, but just a mass-produced kid's plaything, gave this funnyman a newfound emotional layer. Allen is even better because he can instantly turn on the yucks, and has continue to make it work for multiple movies.
1. Robin Williams in Aladdin
In what truly has to be the best meeting of outsized personalities, Williams's unforgettable performance as Genie in Disney's Aladdin tops the list because he's simply the most unforgettable. Williams had solidified himself as one of the funniest entertainers in the world at that point, thanks to his stand-up work, sitcom, talk show appearances, and eclectic movie career. Williams was an actor that was impossible to pin down, and yet Genie felt custom-made for him.
In fact, that's what happened: Disney's animators created Genie using Williams's stand-up routines as a template when making Aladdin. He was too animated not to be one of the best animated characters ever.