14 Netflix Standup Specials You Should Watch
While waiting for Patton Oswalt to gift us another hour on April 15, we compiled some standup specials to sate our appetite.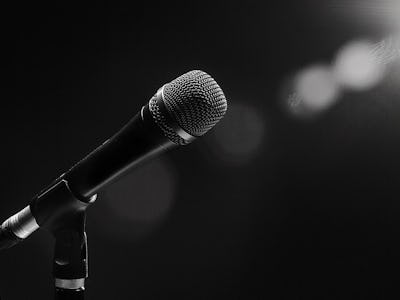 blogspot.com
As it doubles down on its commitment to premiere original programming, Netflix is venturing ever-deeper into standup territory, commissioning four new standup specials for 2016. They're already three-quarters of the way through that promise, as February and March saw the release of the highly-praised sets from Hannibal Burress and Jimmy Carr and, well, another one from Theo Von.
In April, though, Netflix has a surefire hit on its hand with its final standup special of the surge: Patton Oswalt's Talking For Clapping. The diminutive comedian is set to explore "everything from misery to defeat to hopelessness." So, you know, his usual fare.
Of course, with more than a week to go until Oswald takes his bow and with so much time elapsed since you were enthralled by Burress and Carr, you're probably hurting for some good standup to fill your time. Not to worry, as Netflix has an extensive lineup of specials that are just waiting to tickle your funny bone.
Trevor Noah, African American
The new host of The Daily Show earned his desk with years of hilarious standup. This special features the comedian's "fish out of water" take on American culture with a heavy dose of silliness and more than one surprisingly solid impression.
Jim Gaffigan, Mr. Universe
No one knows how to make being a sad sack as appealing as the poster boy for pasty, Jim Gaffigan. Talking about everything from his bad eating habits to his four freaking kids, Gaffigan is an everyman who's happy to be stuck in his crazy situation.
Louis CK, Live From the Beacon Theater
On the flip side of Gaffigan's positivity coin, there's Louis CK, who's no less funny but who's way more acidic. In this set, the comedian talks about his increasing distance from youth culture and what it means to be a good parent, all while lamenting his lot in life with trademark wit.
Gabriel Iglesias, Hot and Fluffy
Gabriel Iglesias is filled with love for all of humanity, and his standup shows it. Sure, he doesn't hesitate to point out stupidity wherever it may occur, but most of his show is about the general, forgivable stupidity that surrounds us on a regular basis. And, yeah, there's some good material about his trademark "fluffiness."
Aziz Ansari, Buried Alive
The star of Netflix's Master of None made his entrance onto Netflix with several standup specials. Dialed into pop culture to an unbelievable degree, Ansari tackles everything from race relations to the rules of dating in his inimitable, spastic style.
Jim Jefferies, Bare
Australian immigrant Jim Jefferies may be a father, but his salacious humor has remained unchanged. Few people can spin such unrepentantly bawdy subject matter with such charm. Jefferies happily talks about the dysfunction of raising his son, his fights with his girlfriend, and gleefully overdoing the alcohol with relish — and it's impossible not to love him for it.
Kevin Hart, Laugh At My Pain
There's a reason that Kevin Hart is one of the most sought-after comedians in Hollywood today. In addition to cracking expected (though hilarious) jokes about his height, Hart twists his traumatic childhood into comedy gold and manages to talk about fame while staying humble on the stage.
Nick Offerman, American Ham
Their politics aside, Nick Offerman and his Park and Recreation counterpart Ron Swanson aren't that different. They're both proud products of the American Midwest with a folksy attitude to match. They're both talented musicians, though Offerman is prone to silly songs more than the sax. And they're both worth an hour of your time.
Eddie Murphy, Raw
Though it's not for the politically correct — there are extended segments in which particularly taboo terms are used to refer to homosexuals — there are definitely moments in Eddie Murphy's iconic standup set that stand the test of time. Hell, if you're not the type that's easily offended even those bits are pretty funny, even if they're in poor taste by today's standards.
Kathleen Madigan, Madigan Again
The veteran comedian is never a disappointment, but Madigan Again is a real gem. The boozy comedian knack for comparison serves her well through stories about growing up — to working on the comedy scene. From sets about her time in every bar in North America to her stories about entertaining the troops, there's no real down time in this special. Also, keep an ear out for jokes at the expense of fellow standup Lewis Black.
Ralphie May, Too Big To Ignore
Ralphie May doesn't really give a fuck what you think, which is why he talks gleefully about a variety of subjects most other comedians avoid. From growing up white in a black neighborhood to the perils of Mexican movers, the comedian eagerly throws caution to the wind in this ribald love note to the rich tapestry of American culture.
Patton Oswalt, My Weakness is Strong
Okay, sure, it's a gimme, but if you haven't caught Patton Oswalt's other standup special, stop what you're doing and go. Riffing on everything from religion to nerd culture to hipsters, Patton Oswalt easily earns his title as one of the best standup comedians working today.
Maz Jobrani, Brown and Friendly
It's tough to be a Muslim in America these days and few people put that into such stark context than Maz Jobrani. The sitcom vet talks about being Muslim in America with such wit and silly enthusiasm that it's difficult to miss the chaos swirling around us with a bit of a twinkle in your eye.
John Pinette, Still Hungry
We saved the best for last: the late, great John Pinette attacked his material full force, taking audiences on a hilarious journey through his everyday life. Trips to Disney World, complaints about gluten and exercise, and more than one ode to fine cuisine make for one of the best standup specials in recorded history.