The Music World Reacts to Alton Sterling and Philando Castile
We take a look at new material released by musicians in the wake of the shootings in Baton Rouge and Minnesota.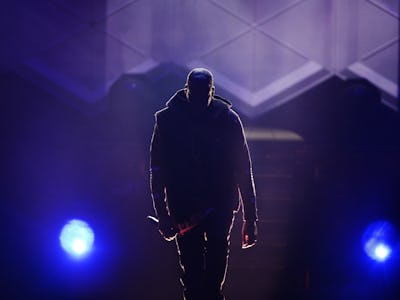 Getty Images / Stephen Lovekin
In the wake of the video-documented police shootings of Alton Sterling and Philando Castile, several prominent musicians released new material as an implicit commentary — either literally or more figuratively — on the tragedies. Here's a look at the best and most timely of this material.
Jay-Z- "spiritual"
Jay-Z's "spiritual" feels as private and emotionally charged as the explanatory note the rapper released with the song. He claims that the autobiographical track was recorded prior to he death of Mike Brown, but that he sat on it, partially because he "knew his death wouldn't be the last." His note is as sad and confusing as recent events. The song itself is vested with gravitas and an appropriate level of sonic chaos in its first minute — Biblical paraphrases, pitch-shifted voices, disjointed piano clusters. This turns out to be just an overture for one of the most focused and least contrived-sounding pieces of solo material Jay has released in the past five years.
Known these days for rapping about the price of fame and his art collection as much as the long struggle he had to get to the top, confessional lines like "I acted out, my life a stage, ten thousand people watching/ Where's the little boy I knew? I must have forgot him" are not only timely but unexpected for a man now almost as famous for his business ventures and heavily scrutinized marriage as much as his new music.
Listen for free via TIDAL below:
Miguel- "How Many"
Shapeshifting L.A. singer/songwriter Miguel's new project, "How Many," is more contemporary than Jay's. It's a real-time chronicle of his direct reaction to the Sterling and Castile shootings. In his Soundcloud description for today's first draft of the song, he claims he began work on it "between the hours of 4am and 7am," and that he will update this song every week until its complete." As his grief changes form, presumably, so will the song.
In both form and content, the approach feels like an appropriate and singularly moving reaction to this week's events. Over a guitar rendered into a digital mess of eerie ripples and discordant twangs, Miguel sings meanderingly about "human lives turned into hashtags" and "heartbeats turn[ing] into flat lines," before the eventual climactic call-to-arms ("wake up, brothers and sisters") over a compact percussion loop. Miguel's project is one to watch. It will be fascinating to hear how he finishes the song, or if he ever does; maybe tacking an ending on will never feel appropriate.
Chris Brown- My Friend"
I, for one, am not looking to Chris Brown for commentary on international tragedy and really anything in particular. Periodically, though, the controversial singer churns out an excellent, even tender pop song, and I pay no attention to the man behind the curtain for a few minutes of Hot 97 airtime. In any case, Brown posted a new song to Soundcloud, which is not a direct reaction to recent events, but seems to have been released as a result of them.
Brown's song is a simple, tuneful piano power-ballad, mixing Coldplay-like chording with a touch of the wistful side of Prince. On the surface, it's a simple love ballad of reconciliation and forgiveness with a former lover, something which Brown himself has never seemed to be very good at. The "Girl, you know you wanna see me again" line is the final chorus is a suspect flourish, but at least in general affect, "My Friend" is soothing.
Watch a video Brown posted in direct reaction to the shooting below: