Dallas Sniper Suspect Acted Alone, No ISIS Affiliation
Five police officers were killed and another seven injured in Thursday's shooting.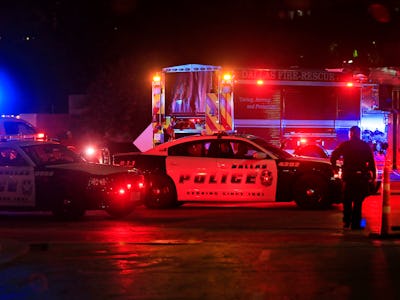 Getty Images / Ron Jenkins
Gunfire erupted during a peaceful protest in downtown Dallas Thursday evening. Five police officers are dead, seven were wounded, and another two civilians were injured, further dividing a nation shook by racially charged violence this week.
The suspected shooter was killed during a shootout with police in a nearby parking garage, which ended when police used a robot bomb. Officials now believe Micah Xavier Johnson, 25, to be the lone shooter in the attack despite also detaining one woman from the garage and two male suspects later on during a traffic stop, according to the New York Times.
Johnson was a Dallas resident with family residing in Mesquite, just outside the city. An officer told CNN that Johnson had no prior criminal background or known ties to terrorism.
The Dallas Police department in a morning press conference said it is an ongoing police investigation and declined to give any further details about the suspects.
Shots first rang out at about 9 p.m. Central time according to eyewitness reports, following protests against two major shootings of black men at the hands of police — Philando Castile in Minnesota and Alton Sterling in Louisianian. The march was meant to stand in solidarity with the families of those lost in related violence, and the shooting made it the deadliest attack on police officers since September 11, 2001.
As the evening came to a close, police officers found themselves targeted by unknown snipers firing down from a parking garage, only a few blocks away from Dealey Plaza, the site of President John F. Kennedy's 1963 assassination.
Dallas Police Chief David O. Brown repeated some of the final words of the shooter, saying, "The suspect said he was upset about white people; the suspect said he wanted to kill white people."
In Friday's morning briefing, Brown related Thursday's shooting to the greater problems facing American policing and the force's relationship with its citizens.
"We're hurting," Brown said. "Our profession is hurting. Dallas officers are hurting. We are heartbroken. There are no words to describe the atrocity that occurred to our city. All I know is that this must stop, this divisiveness between our police and our citizens."
Lorne Ahrens, Michael Krol, Michael J. Smith, Brent Thompson, and Patrick Zamarripa were the five officers killed in Dallas.
Brent Thompson, 43, who was a Dallas Area Rapid Transit (DART) police officer. He joined the force in 2009 and represents the first fatality of a DART officer since the department was formed in 1989. He recently married a fellow officer in the last two weeks.
Thompson represented Dallas police in Afghanistan as part of a DynCorp private look into policing in the southern town of Lashkar Gah. Thompson was subsequently interviewed by the New York Times in a 2006 article about the lack of policing in the country.
DART also released the names of the other three officers injured in the shoot out: Omar Cannon, 44, Misty McBride, 32, and Jesus Retana, 39. They are expected to recover from their injuries.
"As you can imagine, our hearts are broken," DART authorities wrote in a statement. "This is something that touches every part of our organization. We have received countless expressions of support and sympathy from around the world through the evening. We are grateful for every message. Thank you."
Patrick Zamarripa, a 32-year-old Iraq veteran, Mexican-American, and father who was very active on Twitter, was also among the victims. His numerous tweets give a snapshot of his life from his family to his interest in WWE wrestling.
Lorne Ahrens was a 14-year veteran of the department and described by his father-in-law as a "big ol' boy." At a towering 6-foot-5 and 300 pounds, Ahrens was a former semi pro football player who not only had the stature to intimidate, but, according to documents, was also quick enough to chase down a cocaine dealer during an incident in 2003.
Michael Krol, 40, was a Michigan native who made a gamble in 2007 to move to Dallas, a city he barely knew, to become a police officer. He graduated from the academy and made a new life for himself there, but that all came to an end Thursday night.
Michael J. Smith was a 28-year veteran of the Dallas police department as well as a seven-year service member in the U.S. Army. On Sundays, he worked as a security officer at the Watermark Community Church in Dallas, handing out pamphlets and greeting the members.
Mayor Mike Rawlings during the briefing also expanded on the department's decision to use a bomb to stop the suspect.
"We saw no other option but to use our bomb robot and place a device on its extension for it to detonate where the suspect was," Rawlings told reporters. "Other options would have exposed our officers in grave danger."
Typically robots are used by bomb squads to disarm live explosives, however, the force decided to use a far less common tactic, and used the robot to set off its own bomb.
In 2014, the Albuquerque, New Mexico SWAT team used a robot to take out a suspect who had barricaded himself in a motel room. However, in that instance, a chemical agent was used to force the assailant's surrender.
Initially, the suspect was unofficially suspected to be a man named Mark Hughes, however, those reports were false. When Hughes discovered his face was being broadcast around the country, he flagged down an officer to help explain and was taken into custody for a half hour.
Hughes told the local CBS affiliate KTVT that officers were trying to tell him they had footage of Hughes with a gun in the area, which Hughes denounced as a lie. The department released him and gave no apology according to Hughes.
Additional reporting by William Hoffman