Dallas Police Kill Shooting Suspect With Military Robot
Hundreds of police stations own military bomb-disposal robots like the MARCBot-IV.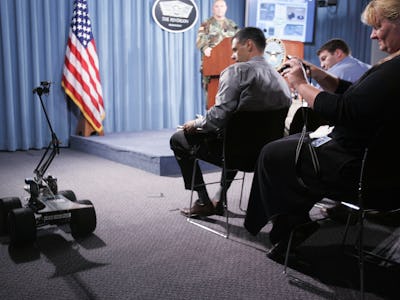 Getty Images / Chip Somodevilla
Dallas police killed a suspect with an explosive device attached to a military surplus bomb-disposal robot, after a three-hour long standoff between law enforcement and a heavily-armed shooter on Thursday night. The suspect, identified as ex-Army Reservist Micah Xavier Johnson, 25, opened fire on police officers during a Black Lives Matter protest in downtown Dallas, killing five officers and wounding seven. Three more suspects are in custody, but Dallas police believe Johnson was the only shooter.
During a press briefing after the standoff's resolution, Dallas Mayor Mike Rawlings expanded on the department's decision send in the robot.
"We saw no other option but to use our bomb robot and place a device on its extension for it to detonate where the suspect was," Rawlings told reporters. "Other options would have exposed our officers in grave danger."
It's the first time a robot has been used to kill a suspect in the United States — but it may not be the last, as the military-grade devices are readily available to police departments across the country through the military's 1033 Program, which allows civilian law enforcement agencies to buy surplus or repurposed military equipment for domestic use.
The news that the Dallas Police had used their Explosive Ordnance Disposal (EOD) robot to kill the shooter sparked a larger conversation on social media about the role of military technology in civilian law enforcement. Asher Wolf, a journalist founder of Cryptoparty, a group that advocates for encryption technology and digital security, discovered that the robot used was almost certainly a MARCbot-IV purchased through the military 1033 program.
According to Wolf, over 200 law enforcement agencies use EOD robots purchased through the 1033 program. Wolf reported that most of Dallas's agencies use the MARCBot-IVs.
This isn't the first time a MARCbot has been used in combat, either. Wolf also noted that MARCbot-IV's were often used in Iraq, sometimes in conjunction with the claymore antipersonnel mine. An NPR story in 2009 reported that a military unit in Iraq jury-rigged their MARCbot with a claymore and used it to kill insurgents setting up ambushes in cramped urban environments rather than risk soldier's lives, a tactic almost identical to the situation in Dallas.
Wolf also raised the question of where the Dallas PD got the bomb they used to kill the shooting suspect.
The use of an explosives-equipped robot changes the nature of the suspect's killing. In an active shooter situation, the right of police officers to use deadly force to protect themselves is rarely debated, but using a remote-controlled robot to carry out a planned killing is very different from a firefight. A robot has been used before in a similar situation in Albuquerque, New Mexico, but there, the SWAT team used a non-lethal chemical agent (i.e. tear gas or a similar product) to force the suspect to surrender. In Dallas, surrender was not an option.
Other Twitter users noticed the discrepancy between the DPD's efforts to control the situation and the eventual resolution.
Kelsey Atherton, a writer at Popular Science, noted that the presence of a robot which can kill a suspect fundamentally diminishes the power of negotiation, which can often bring violent standoffs to a non-violent resolution, which can save the lives of suspects, police officers, and bystanders alike.
Essentially, if a standoff suspect knows the police can kill them with impunity and little risk to themselves, the suspect knows they have little power in negotiating, which could lead them to escalate the situation. Trust is a core component in standoff or hostage negotiations, and if a robot could be coming to kill them, why would a suspect trust a police negotiator?
Military technology has rapidly proliferated throughout law enforcement agencies through the 1033 program, and some of it has even made it to the private sphere. The MARCbot is also available to civilians as well, and has been used as a teaching tool in middle school robotics classes. Dallas police has not confirmed that the MARCbot-IV was the robot used, or the nature of the explosive device used to kill the suspect.