Is Rae Sremmurd Going to Drop a Brick with 'Sremmlife 2'? 
The singles and loose tracks the Tupelo rap duo has released in recent months are cause for alarm.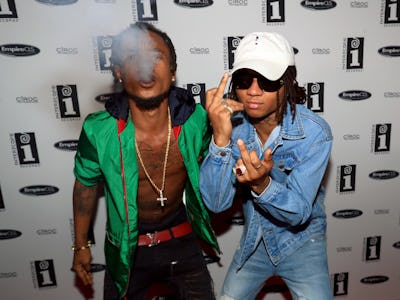 Getty Images / Christopher Polk
Tupelo rap duo Rae Sremmurd emerged in 2014 with the unlikely, insidiously catchy chant-along hit "No Flex Zone," and later the very likely and endlessly re-playable "No Type," and then the best major-label street rap debut album in recent memory in January of last year. Accepting unruly, ever-gyrating brothers Swae Lee and Slim Jxmmi as a possible lasting institution in hip-hop was something the world had to come around to piecemeal. Eventually, they began to seem like an unstoppable force — a thorn in the side of real hip hop heads everywhere, heroes for club rap DJs.
Perhaps the inherent disaster-waiting-to-happen nature of the Rae Sremmurd project — trap Kris Kross for the hashtag generation — was part of what made their formative music so urgent and larger-than-life. The desperate energy of the best music on Sremmlife" (From "Unlock the Swag" to the now-ominous "Up Like Trump") is its most essential element. Rae Sremmurd were best when they truly seemed to be throwing everything at the wall to see what might stick.
Of course, there was a technical backbone to what they did — evidence of hard work and stylistic honing, not just big personality. Though the Ebros of the world might blame it all on trap-pop architect extraordinaire Mike WiLL Made-It (their label head and executive producer), Rae Sremmurd proved themselves across the Sremmlife album to be precocious songwriters. On its merits, Swae Lee would later be recruited by Beyoncé to lend some off-kilter, industrial-grade swag to her pre-Lemonade statement of purpose as a co-writer on "Formation." At their best though, the duo could do more than write an indelible hook. They could play off each other perfectly, building energy linearly across a track, and make their verses just as catchy as their choruses — "Chop the top of a Porsche/ That's a headless horse" is more memorable than many rapper's full albums).
One wonders where that sparking immediacy has gone on the group's recent tracks: some one-offs, some singles from their upcoming Sremmlife 2, due in August. Muted, pointillistic Mike-Will-concocted lead single "By Chance" was promising, but seemed roughly on the level of an album track from their debut qualitatively. "Look Alive" is an apt spiritual sequel to "No Type" — stark, aerated trap with a plaintive Swae Lee melodic hook — without begging return listens. Neither single has yet cleared the Hot 100. Meanwhile, the glitchy, nearly atonal "Over Here" didn't impact at all, and was the biggest harbinger of a disappointing record to come.
The most recent and most serious warning sign was a June Sremmurd track (remember the great "This Could Be Us") that was all meme and no swag: the lethargic "#DoYoga." Thankfully, it has not materialized on either the tracklistings for the regular or deluxe version of Sremmlife 2. The most inspired Jxmmi gets here is "Ass fat, tights barely can fit you/ Went to college, coulda been a stripper," and somehow the brothers manage to empty the hook ("All my girls do yoga/ And get high at night") of all playfulness and humor.
With trending rappers like recent XXL Freshmen Lil Yachty and Lil Uzi Vert, and rising stars like Famous Dex, Swae and Jxmmi's charming, loosely cogent similes and rapid, erratic flows have become very close to the hip-hop norm in the last year-and-a-half. This is doubtlessness part of the problem — why the new Rae Sremmurd material feels tired from the jump. The duo's music never felt, in its DNA, explicitly original, but few acts with their profile were as exuberant and consistent. But now that the Sremmurd-esque is everywhere, it's harder to give them the benefit of the doubt. The songs need to feel more undeniable.
It's sad, especially when the duo can still boast having done the best thing in hip-hop this year so far: a rabid, hilarious 20-plus-minute freestyle on Tim Westwood's radio show. Cracking up periodically — pathologically unable to stop — the brothers Brown embody and occasionally surpass everything that was fun about them in the first place. After all, they were fired up: Their credibility had just been questioned. They sounded hungry again, and free of the pressure to turn in another viral hit; they could just mess around, and it sounded like we want all their music to sound. However — with multiple charting singles, critical accolades, and almost 200,000 albums sold — their recorded output doesn't feel as inspired. It's hard to overcome the sophomore slump effect for any artist. Let's hope Rae Sremmurd has a fair amount to surprise us with on the back end of Sremmlife's followup — at least, something as joyful as Jxmmi's moonwalk here: