Trump Camp Steals "Frozen" Star Defense from Reddit
Trump is pulling inspiration from other people, which isn't exactly new.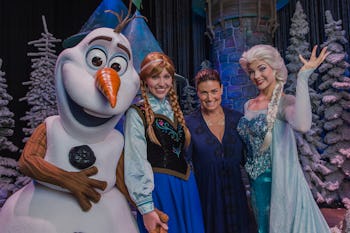 Getty Images / Handout
In the latest installment of the long-running trash fire that is the U.S. presidential election, Donald Trump published a tweet that accused Disney's Frozen of being anti-Semitic. Specifically, Trump's camp had decided to use two sticker books as a defense, and while the parallel already seemed nonsensical, it gets worse — it's not even original.
Snatching a post up from a Reddit forum, Trump asked why these particular Frozen sticker books weren't given the same critique as his now-deleted tweet against opponent Hillary Clinton. "Where is the outrage for this Disney book?" the Republican candidate wrote on his Twitter, in a rare full sentence. (Don't worry — he returned back to fragments soon after).
The particular board that Trump pilfered has been under fire recently by Reddit for what the forum claims are attempts to seize focus across the site. "We have seen many communities like r/the_donald over the years ones that attempt to dominate the conversation on Reddit at the expense of everyone else," Reddit CEO Steve Huffman told NBC News in an email. "This undermines Reddit, and we are not going to allow it."
The post was first identified by The Daily Beast's Justin Miller. This is far from the first time Trump and other prominent figures in pop culture have stolen from their followers. For Trump in particular, his rarely-researched accusations often come from Reddit forums and other areas of the internet run prominently and proudly by hate groups. This particular post appeared on Reddit yesterday, and Trump tweeted it out hours later.