Nope, Thanos Won't Be in Marvel's 'Guardians of the Galaxy Vol. 2'
Director James Gunn tweets the cosmic demigod's absence from the 'Guardians of the Galaxy' sequel.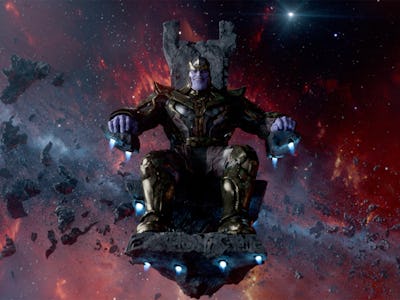 Marvel Studios
For anyone wondering what cosmic demigod Thanos will be up to in next summer's Guardians of the Galaxy Vol. 2, you'll have to keep wondering. In a tweet from posted earlier today, director James Gunn confirmed that Josh Brolin's bluish-purple alien and wielder of the Infinity Gauntlet will sit out of the sequel.
When a fan on Twitter asked Gunn about meeting actor Josh Brolin on the set of Vol. 2, which is currently shooting, Gunn replied: "I directed him on Vol 1, but Thanos is not in Vol 2."
There's not much to theorize or speculate about there, because Gunn's language is quite clear. Thanos will not be in Guardians of the Galaxy Vol. 2. But given his importance to the Marvel Cinematic Universe and his significance as the primary foil to 2018 and 2019's Avengers: Infinity War movies, you can probably expect to see him again in another one of Marvel's movies soon.
Meanwhile, just because Thanos is on a smoke break doesn't mean Star-Lord and the other Guardians get off easy. Elizabeth Debicki will play Ayesha, an alien hell-bent on the search for the perfect mate to breed a new race of superhumans with absolute perfect biology. You can already guess Chris Pratt's doofus Star-Lord might use some of that pelvic sorcery.
Marvel Studios will release Guardians of the Galaxy Vol. 2 in theaters on May 5, 2017.