Winter Is Still Not Coming For a Long Time in 'Game of Thrones' 
'Game of Thrones' Season 7 has been delayed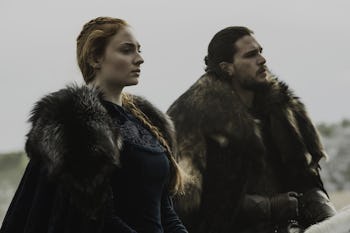 HBO
Winter might have come at last on Game of Thrones after 6 seasons of characters ominously muttering its name, but it will be a while yet until winter comes to our television screens. Season 7 — which will be an abbreviated seven episodes instead of the usual 10 — has been pushed back.
As if the wait isn't agonizing enough, creator David Benioff said on a recent UFC Unfiltered podcast — presumably there to pick up some sweet moves to use in Season 7's big battle — "We don't have an air date yet. We're starting a bit later because at the end of this season, 'Winter is here' - and that means that sunny weather doesn't really serve our purposes any more. So we kind of pushed everything down the line, so we could get some grim, grey weather even in the sunnier places that we shoot."
Because we can believe Arya knows how to cook human meat pies, but this kind of lighting strains credulity.
Definitely not winter-y.
It doesn't seem to matter that they shoot a lot in Northern Ireland, a place that's already not known for its tropical environment. Isaac Hempstead-Wright, aka Bran Stark, told us earlier in the season about how thrilled he was to jet off to Spain to film that Tower of Joy sequence. "To actually get to shoot somewhere warm was nice, since I'm always in Belfast!" he said.
But it seems that Benioff and Weiss would rather go Method about filming Winter. More likely, they're trying to stall until The Winds of Winter finally comes out.