Watch The 'Kubo and the Two Strings' Trailer Shimmer With Magic
The latest trailer for 'Kubo and the Two Strings' shows us more Monkey, more Beetle and more magic.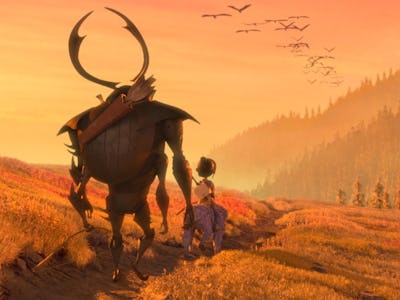 LAIKA
A new trailer for the upcoming film Kubo and the Two Strings features more of the beautiful stop motion goodness we've come to expect from LAIKA, the animation studio that gave us ParaNorman and Coraline. It also gives us a few new glimpses into some of the film's most prominent characters and shows us some brand new and stunning imagery.
Telling the story of Kubo's journey from storyteller to adventurer as he unravels the mystery of his samurai warrior father and does battle with all manner of formidable foes as he attempts to save his family, Kubo and the Two Strings is set for release on August 19th.
The latest trailer features more of Monkey and Beetle, Kubo's companions on his dangerous quest of heroism and self-discovery. Voiced by Charlize Theron and Matthew McConaughey respectively, Monkey and Beetle are instrumental parts of Kubo's adventure, as is Kubo's actual instrument — a magical shamisen.
In fair fantastical Japan, where we lay our scene, Kubo's world is vibrant, mysterious, vast and diverse. From mountains to forests and from snowy expanses to wide oceans, the landscapes featured in Kubo and the Two Strings are ambitious and varied.
Based on what we've seen so far, the imagery of Kubo and the Two Strings is rich and has the tangibility, texture and presence that's unique to stop motion animation.
LAIKA's created a visually stunning backdrop for Kubo's story that begins with actually building the world of the film. Kubo's world doesn't just live inside of computers, but comes to life with real physical elements that move, shift, and change.
Kubo and the Two Strings will be released in theaters on August 19.