The 'Kubo and the Two Strings' Trailer Looks Promising, If a Little Flawed
It's Laika, though. We know it'll be gorgeous.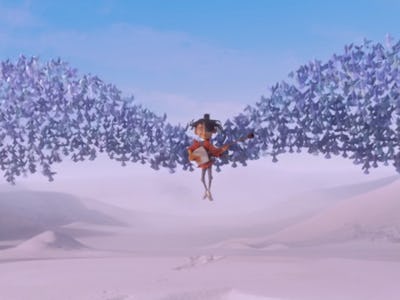 Laika
Portland stop-motion studio Laika just released the first theatrical trailer for its 2016 film, Kubo and the Two Strings. The film's gorgeous visuals — when it comes to imagery, Laika can do no wrong — are set to a cover of "While My Guitar Gently Weeps," and the trailer introduces several previously unseen characters. More visuals, including a second teaser trailer, are available on the film's website.
The film noticeably uses Japanese-inspired imagery, and codes its primary characters, who live in a seaside town, as Japanese. None of the primary cast members, however, are Japanese, aside from George Takei. Will fans voice concern on the racial elements in Kubo? Unclear.
On the question of whether or not race matters when casting voice actors, one can look to Disney's casting efforts for Moana. The primary characters, including Disney's first Pacific Islander princess, will be played by actors whose racial backgrounds reflect the film's setting: the half-Samoan Dwayne Johnson and Hawaiian actress Auli'i Cravalho.
Steven Universe, the Cartoon Network anime fusion drama noted for its portrayal of lesbian romance, also employs a black performer, Estelle, to voice Garnet, one of the show's protagonists, who is coded as black.
As for Kubo, Laika has produced several of the most beautiful and visually innovative children's films in the last decade: Coraline, ParaNorman, and The Boxtrolls were each stunning and immersive films, though they all found their weaknesses in plot construction. Here's hoping Kubo and the Two Strings will be the Laika film to transform the company into a storytelling powerhouse to rival Pixar and Disney, as opposed to simply being a source for masterful visuals.