'Into the Badlands' Season 2 May Use Ireland as the City of Azra
Dublin and Wicklow will become the backdrop to the next season of AMC's steampunk kung-fu series.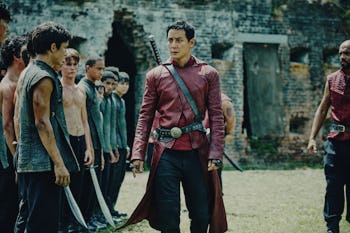 AMC
It's a long year until Into the Badlands returns to AMC, but production is ramping up as the series is heading to the Emerald Isle for Season 2. Shooting locations in Dublin and Wicklow, a county town in mid-east Ireland, are scheduled for a 16-week shoot beginning this August.
For its first season, the apocalyptic kung-fu/western series used former plantations and sound stages in New Orleans, Louisiana as the setting for its titular Badlands. But in the finale "Hand of Five Poisons," M.K. (Aramis Knight) was knocked unconscious and carried away by monks headed to Azra, the fabled city outside the Badlands which M.K. and Sunny (series star Daniel Wu) fought desperately to escape.
Given Ireland's different look to Louisiana, it's a suitable location for a place as mythical as Azra. Dublin, Ireland's capital city, is a bustling metropolis with plenty of architecture still standing from the Middle Ages and the 18th century, such as Dublin Castle and the Four Courts.
Meanwhile, Wicklow is a grassy harbor town with cooler temperatures than New Orleans. Either will do to show just how far M.K. and Sunny — the most fearsome killer in the Badlands but now the River King's slave — will be from the Badlands.
Executive producer and co-showrunner Miles Millar also began sharing photos on Instagram this week of the production team's location scout across Dublin and Wicklow. While the pictures reveal nothing about Season 2's plot, we know at the very least the series will look very, very pretty.
Into the Badlands will return in 2017.
H/T The Irish Film and TV Network