More Dreamy Drone Footage Surfaces of Apple's California Campus
The facility is slated to open later this year.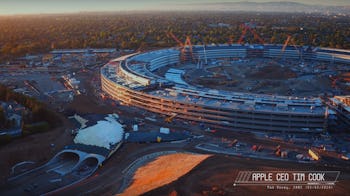 YouTube
We've known Apple is working on a new mega "spaceship" campus for some time now, but new drone footage shows how the construction has come along in the past month and details some of the buildings' distinct features, all against a glowing sunset.
Construction of the Cupertino, California building began in 2014 and since then we've seen mesmerizing footage of the construction back in November, 4K quadcopter shots in April, and just last month Duncan Sinfield started giving regular updates from his drone flybys.
Sinfield's July update details a number of the structures under construction and what they may eventually do. His list of features includes: two four-story garages to house 14,200 vehicles, massive tunnels that connect to underground facilities, a 100,000 square foot fitness building, just a few of the 7,000 trees set to populate the area around and inside the 360-degree glass window lined building, large networks of air conditioning and AC2 units visible on the roof, and space where solar panels will eventually be installed to provide 16 megawatts of power.
One of his shots also gives a little perspective of how close the new facility is to the current campus. The two are just a short drive away on Interstate 280.
The campus is scheduled to be complete by the end of this year and Apple hopes to move employees in by early 2017. We don't even want to think of the logistical undertaking it must be to move all the equipment and personnel of the world's largest technology company to a new facility. Maybe Apple will even host an auction for all the left-over junk lying around, a la Silicon Valley.
Watch all of the gorgeous drone footage below.